Two United States Navy Blue Angels demonstration team pilots made a stop in Owensboro this afternoon in preparation for the team's performance in the 2018 Owensboro Air Show, which will take place September 14-16 in downtown Owensboro.
Lt. Dave Steppe, who was joined by Lt. Andre Webb, told media gathered at Mid America Jet this afternoon the team will be bringing six performance aircraft (Boeing F/A-18 Hornets) and a C130 "Fat Albert" transport aircraft, along with a crew of 85 personnel for the Owensboro Air Show.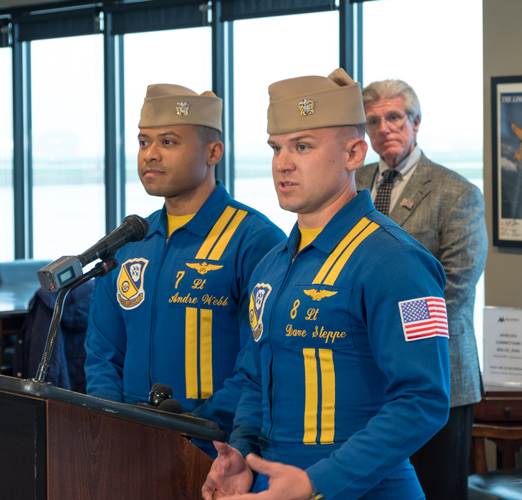 Their "show" will include a 45-minute demonstration of aerial maneuvers and six-craft formations. But beyond their world-renown show, Lts. Steppe and Webb say they also look forward to the chance to interact with the community during school visits and other community events while they're in town.
Air Shows and community engagement are also incredible recruiting pieces for the Navy.
The team does around 33 air shows each year and selected Owensboro because of the community support, facilities, and the reputation Owensboro has earned from other demonstration teams. "We hear nothing but good about Owensboro in our industry," Steppe said. "The Thunderbirds and Snowbirds tell us they loved Owensboro."
In case you're wondering, Lt. Webb said the pilots reach up to 7.5 G's (g-force) during some of the maneuvers in the show, which he compared to "the feeling of an elephant sitting on your lap." To prepare for that, the team undergoes incredible amounts of training for precision maneuvers, but also must keep their bodies in shape through physical fitness, nutrition, and the right amount of sleep to withstand the intensity of the air show performances.