She Loves Me is the first of four musicals for Back Alley Musicals' 2016-17 season, which opens Nov. 10.
Constantly at odds with each other while on the job, sparring co-workers Georg (Justin Miller) and Amalia (Alisa Hamilton) are unaware that each is the other's secret pen pal they met through lonely-hearts ads. Through their letters, they have been falling for each other. But, will love continue to blossom once their identities are revealed? Adding to the intrigue are Steven Kodaly (Calvin Malone) and Ilona Ritter (Loré Renner North) and other fellow employees of Maraczek's Parfumerie in Budapest in the 1930s. The show was first staged on Broadway in 1963.
Calvin Malone and Justin Miller are glad to be rejoining the BAM cast after recent professional acting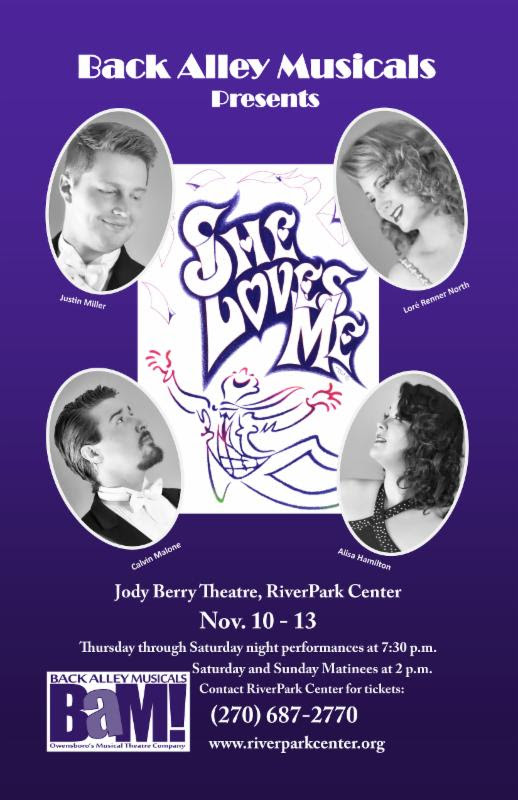 engagements with regional theatre groups. Alisa Hamilton and Loré Renner North have many BAM roles to their credit as well.
The musical is set for Nov. 10-13 in the Jody Berry Theatre, RiverPark Center, Owensboro, KY. Evening performances on Thursday through Saturday nights will be at 7:30 p.m. Saturday and Sunday matinees will be at 2 p.m.
Calvin Malone is also directing the musical comedy along with artistic director Ron Waite, while Corey Cellurale is the show's music director. Music by Jerry Bock, lyrics by Sheldon Harnick, and book by Joe Masteroff. Basis: Miklos Laszio's play Parfumerie. The 2016 Broadway revival of She Loves Me, which closed earlier this year, earned seven recent Tony nominations.
The delightful cast of She Loves Me includes:
Georg Nowack – Justin Miller
Amalia Balash – Alisa Hamilton
Ilona Ritter – Loré Renner North
Steven Kodaly – Calvin Malone
Arpad Laszlo – Preston Middleton
Ladislav Sipos – David Roberson
Mr. Maraczek – Joe Bob Pierce
Keller – Mike Ivey
Busboy – Jared Dockery
Waiter – Will Stone
Ensemble – Mary Beth Ralston, Emma Matthews, Emily Malone, Leigh Ann Crume, Jim Wilhoyte, Chelsea Payne and Mike Bruce.
Individual tickets are $25 for adults and $15 for students plus $3.75 RPC handling charges per ticket.
For tickets, contact the RiverPark Center Box Office at (270) 687-2770 or online at riverparkcenter.org.
Or, purchase season tickets for all four 2016-17 season shows for $90 by calling the BAM Business Office at: (270) 925-4963. BAM will take your season order and provide it to the RiverPark Center Box Office.