One of the best things about Owensboro is that there's something for everyone. Whether you're looking for a fun family weekend or a cozy couples get away, we've got the perfect plan for you.
Couples Weekend
Saturday
Breakfast at Gramps Coffee & Donuts
Start your morning at Gramps Coffee & Donuts, located in the heart of downtown Owensboro, in a gorgeous historic building that's been updated to have a chill, modern vibe. Follow the sweet smells to the ordering counter and choose one (or three!) of their many unique donuts to enjoy with a beautifully crafted latte or an iced specialty drink. Then cozy up at one of the window-facing tables and enjoy people watching as you indulge.
Boutique Shopping at Bella Ragazza and The Earle
Treat yourself and your special person to a morning of boutique shopping at some of Owensboro's best shops. For her, pop into Bella Ragazza Boutique in Wesleyan Park Plaza and enter a world of everyday casual styles and perfectly curated outfits for when you want to look your best. Don't feel like trying on clothes? Have no fear – their accessories alone are worth the stop.
For him, stop at The Earle – conveniently located in the same shopping center – and find something new to step up your wardrobe. Whether you need something for the office for date night, the Earle has got you covered.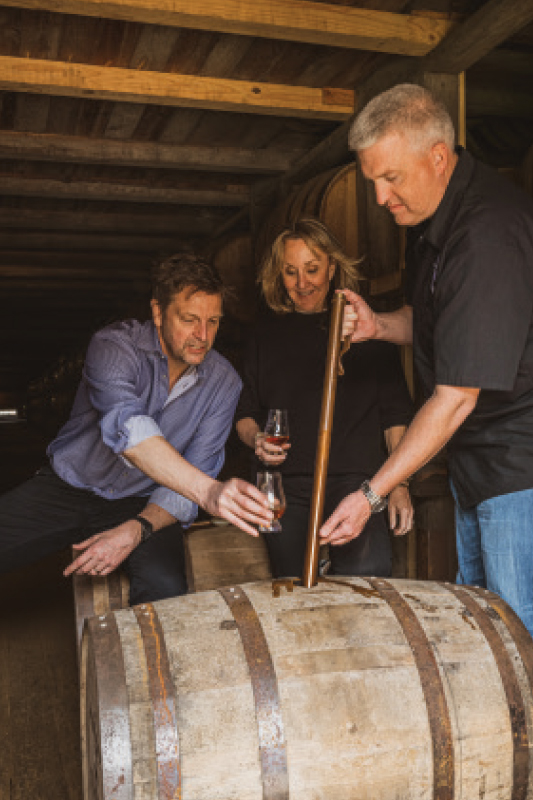 Lunch at Great Harvest
Once you've shopped up an appetite, venture over to Great Harvest Bread Co. at 3211 Frederica Street. Whether you're seeking a light lunch or a filling sandwich, this bakery and cafe is sure to please. A community favorite since they opened over 20 years ago, Great Harvest uses only natural, whole foods in their scratch-made breads and sweets. With healthy salad options and daily specials, there's something for everyone. The tomato bisque soup (served daily) is not to be missed.
Take a Tour at Green River Distillery
Experience the "whiskey without regrets" on a tour of Owensboro's Green River Distillery. The westernmost point on the legendary Kentucky Bourbon Trail is open daily for distillery tours and tasting experiences. Start with a specialty drink from the cocktail lounge, where your whiskey education will begin. The tour of the historic distillery encompasses each stage of whisky production, and you'll end your visit with a session in the tasting room and a browse through the gift shop. Even those who aren't whisky fans should enjoy the fascinating tour and beautiful grounds.
Grab Dinner from J's Good Grub
Mix things up for dinner and think outside the traditional restaurant. Find local favorite food truck J's Good Grub, where you can get a variety of items to share with one another. From chicken and waffle sandwiches to Philly cheesesteak egg rolls, this truck is full of unique eats. Take your food down to Smother's Park on the river and enjoy it snuggled up on a swinging bench, soaking in the light show from the "blue" bridge.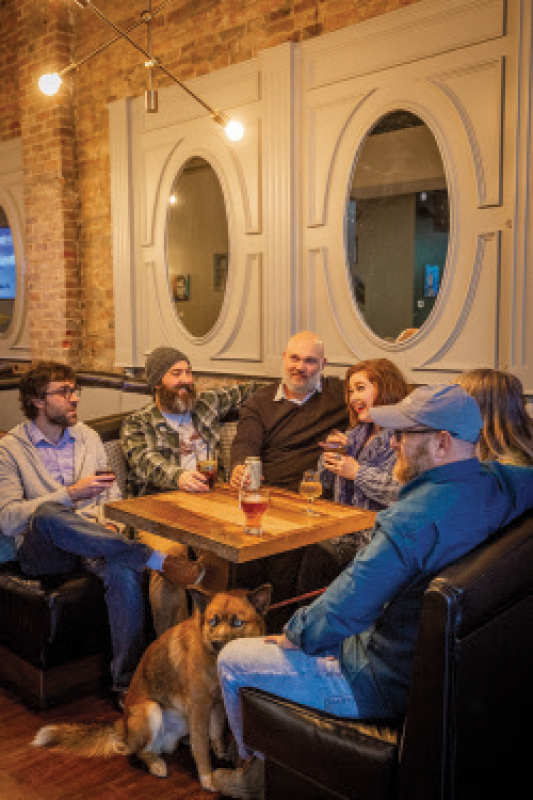 End With a Drink at The Pub On Second
Top off your night with drinks at The Pub On Second. Featuring 100+ craft and domestic beers, an extensive bourbon list, inventive signature cocktails and martinis to please all tastes, the Pub On Second offers something for everyone in an eclectic and cozy setting.
Sunday
Brunch at Lure Seafood and Grille
Sleep in, then roll up to a delicious brunch experience at Lure Seafood and Grille, located on the Owensboro riverfront. This local gem is known for continental seafood dishes, combined with American regional specialties – all of which are best enjoyed with live music on the waterfront patio. Weekend brunch features everything from oysters and lobster with eggs, to southern breakfast dishes and sandwiches. And of course, mimosas and bloody marys.
Catch a show at the RiverPark Center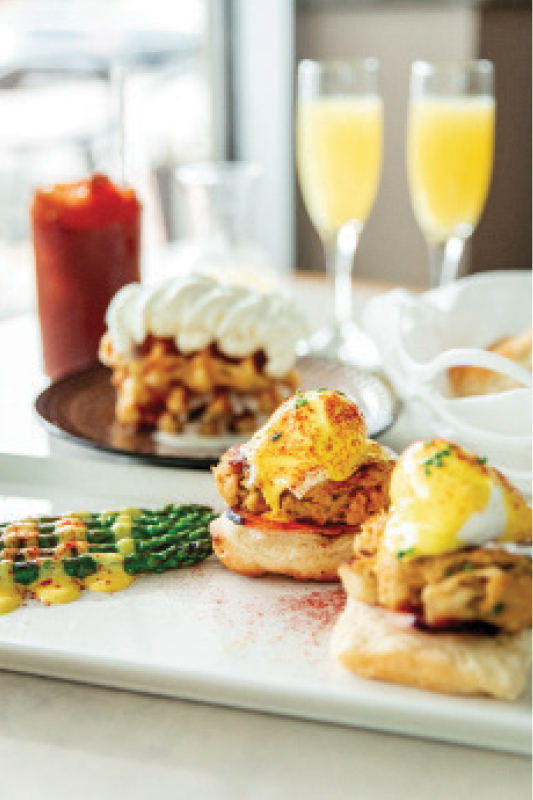 Visit Owensboro's premiere performing arts and civic center, the RiverPark Center and take in a show. Depending on the day, you may find entertainment from local organizations such as the Owensboro Symphony Orchestra, Encore Musicals and Owensboro Dance Theatre, or traveling Broadway shows.
Wrap Up the Weekend at The Brew Bridge
Head down Second Street to end your weekend at Owensboro's local brewery – The Brew Bridge. The spot offers regular events and live music, as well as 30+ taps to choose from. Here you'll find a full bar, brewery and restaurant, as well as what may be the best patio in town.
Family Weekend 
Saturday
Start With Breakfast at Dee's Diner
What's not to love about breakfast at a down-home diner with pancakes as big as your head? Children and adults alike will delight at the delicious breakfast offerings and large servings of food and friendliness at Dee's. Start your day here and you likely won't be hungry until dinner.
Visit Trunnell's Family Fun Acre and Farm Market
Take a drive just a few miles outside Owensboro and you'll find an iconic spot for family fun. Trunnell's offers visitors a taste of the country, with a unique farm market and a farm-themed play area called the Fun Acre. The play area changes with the seasons, but it's always loaded with activities for little ones. There's even a picnic area for trying out some of your market purchases.
Explore The Greenbelt
Walk off the goodies from the market on Adkisson Greenbelt Park, 16 miles of trails that connect the city of Owensboro. The 10-foot-wide asphalt trails make it easy for families to explore. You can walk, run, skate or bike the trails, making it the perfect spot to get active outside.
Dinner At The Dipper
Enjoy dinner at one of Owensboro's local treasures – The Big Dipper. Located on Parrish Avenue, the drive-in has been in business since 1954. Known for their burgers and ice cream, this spot will give you a hearty dose of nostalgia. Don't leave without trying a pig in a blanket or a big wheel, and remember to bring cash. No cards are accepted!
Wind Down with Live Music
Head over to the Bluegrass Music Hall of Fame & Museum for live entertainment on the outdoor stage. Depending on the day, you may be able to enjoy a taste of bluegrass music in a lush green space along the Ohio River. Roll out a blanket and end your day with music under the stars.
Sunday
Pick Up Breakfast from Rolling Pin Pastry Shop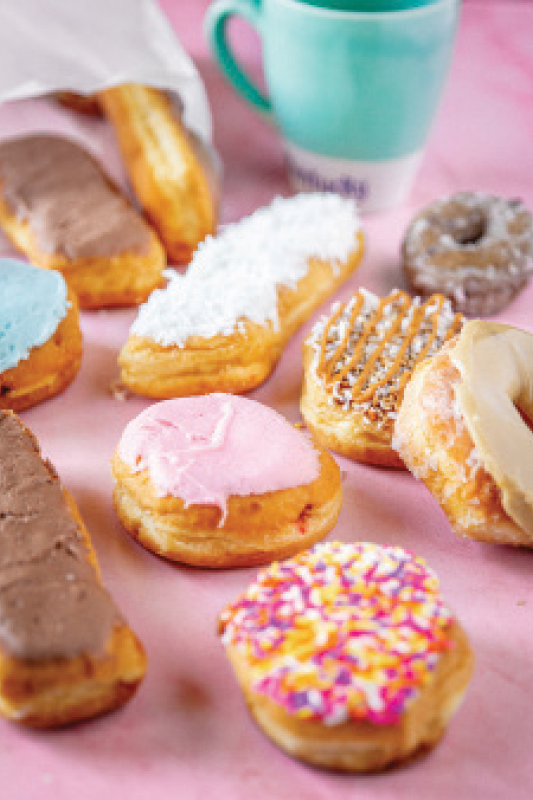 Get in line at Rolling Pin Pastry Shop early and experience one of Owensboro's most beloved donuts. Pick your favorites from the case—from classic glazed and cake donuts to sprinkles and long johns—and grab a chocolate milk or two on your way out. The bakery is take-out only, but that's no issue as Owensboro has an abundance of perfect picnic spots.
Smell The Roses at The Western Kentucky Botanical Garden
Head to the east side of Owensboro and take a stroll through the Western Kentucky Botanical Garden. With more than 16 acres of themed gardens, sculptures and nature to enjoy, the garden is the perfect spot to spend a couple leisurely hours. Bring a picnic basket and enjoy a meal among the flowers, or let the little one's play in the children's garden.
Soak Up the Sun at Smothers Park
Spend a sunny afternoon at Smothers Park on the riverfront, a sprawling recreation area that spans five city blocks. Adults will enjoy the swings along the waterfront and beauty of the signature fountains and waterfall, while children will enjoy the extensive playground where they can dash between the tops of giant artificial trees. Bring an extra set of clothes for the little ones to enjoy the spray park, and don't stress about lunch because the concession stand does not disappoint.
Try Owensboro Bar-B-Que
Once everyone is rested from their afternoon in the sun, pull up a chair at Old Hickory Bar-B-Que. This laid-back local legend has been in business since 1918, and it's easy to taste why. Try the pork, pork ribs, beef, ham, chicken or mutton—each cooked over Hickory wood—and a variety of delicious side dishes. You're also going to want dessert, be it pie, cobbler or banana pudding.
Mix and match these weekend itineraries to make your BEST Owensboro weekend!