Photos by Jamie Alexander
If you've decided to postpone your wedding, or you're thinking you might have to – I can relate. We planned an April destination wedding in New Orleans with our closest friends, and the pandemic exploded about two weeks before our big day. Once we realized things weren't going to get better quickly, we decided to scrap our plans and have an intimate wedding closer to home. Now, looking back, we wouldn't change a thing. While wedding planning in a pandemic isn't ideal – there's still space to create a memorable wedding ceremony, even if it's not your original plan.
As a wedding photographer and former event planner, I know all those details that make up your big day and how important they are. If you're considering postponing your ceremony, here are some tips to help you through this tricky time.
Contact Your Venue
Your venue is probably your most important vendor, and the hardest to reschedule, so start there. Let them know the situation and find out what other dates they have open. They may have the majority of their Saturdays booked, but there's nothing that says a Friday or Sunday wedding can't be just as great. Some venues are even putting together special packages and elopement days for couples who have to change up their wedding day.
Reach Out To Your Vendors
Next, reach out to all your vendors – your photographer, caterer, florist, etc. – with your potential new dates and see when they're available. Some of them will likely be booked for your new date, but hopefully your most priority ones will have similar availability.
Choosing Your New Date
After seeing what dates are open, pick a new one that feels comfortable to you. If you're dreaming of a large wedding, keep the health guidelines and capacity limits in mind and schedule farther out. If you're moving forward with a micro wedding, you probably don't have to schedule as far in the future as someone hoping to have 200 guests. After you make considerations for the pandemic, ask these questions: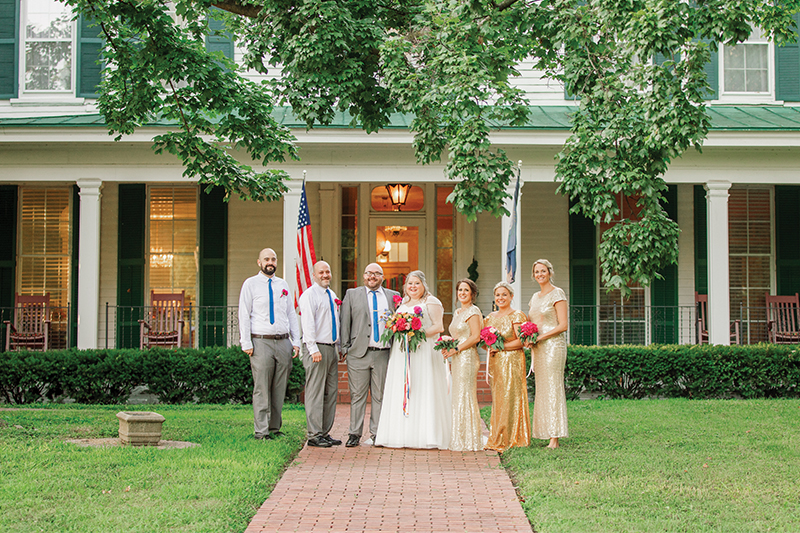 When are we available?
When are our families available?
When is our venue available?
When is our photographer available?
When are other important vendors available?
Ideally, that will land you on one or two dates!
Formally Tell Your Guests
If you've already sent out your invites and your new date is within the next three months, you may consider sending out an updated invitation digitally. If you've only sent your save the date cards, a great option is to send out "change the date" cards and an updated invitation later.
Remember that some things don't hinge on your date, so you can go ahead and get your invitation envelopes addressed (especially if you're having them professionally calligraphed) and have them for when you're ready!
It's All In The Details
One big concern couples have about moving their wedding to a different season is making it work with the color palette you've chosen. For instance, how will your spring colors look in fall? Talk to your florist about how to be mindful of the season, but still keep your dream colors. Don't limit yourself! Those beautiful spring colors can transition into fall with the right shade, and you can add lighter accents to fall colors to make them work any time of the year. The key is to communicate with your florist.
If you're changing seasons, you might also be rethinking how your food and cake will fit into the new time period. If you're changing to a fall wedding from spring or summer, you might consider changing your fruity cake flavor to one that's more like pumpkin spice. If you're downsizing your guest count, you can still have a beautiful wedding cake – just change the number of tiers to be more appropriate.
With a little imagination, a lot of patience and the help of your wedding vendors, you can still have a perfect wedding day, even if it looks nothing like your original plan.