Photos by Jamie Alexander
Cape Verde to America
My mom's family came to the US in the 1920s after there had been volcanos on the island of Fogo in Cape Verde. Most of them settled in Carver, Massachusetts to work in the cranberry bogs. Others went to Plymouth, Brockton, New Bedford, Waterbury, Connecticut and areas throughout New England to find work.
My mom, Frances (Chica), has an extremely close-knit family. She was one of four children raised by my grandmother, with help from her family, after my grandfather was deported back to Cape Verde. My grandmother, Ella, was a proud, strong woman who worked hard to never have to depend on anyone, and always had a pot of food for anyone that was hungry.
Growing up, they had their community of family that consisted of cousins, aunts and uncles, and was overseen by the matriarch, my great grandmother, Taca. "Taca's Gang" as they are known, is a large well-respected family that to this day continues traditions that are six-plus generations strong. Although most of us were born in America, we were taught to be very proud of our family history.
The Rich Heritage of Cape Verde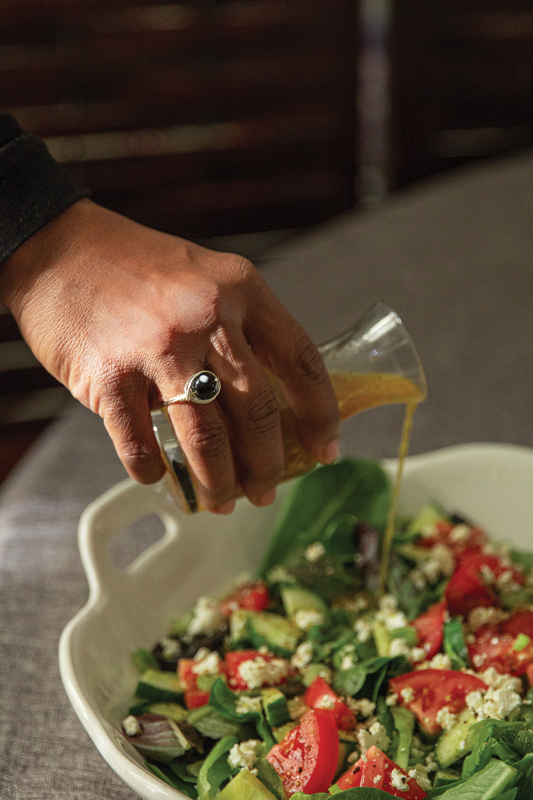 Cape Verdeans are proud people that love their heritage and the fact that they have had their own country since 1975 when they gained their independence from Portugal. Known for their traditions of strength, hard work and respect for family, the people of the islands proudly pass down their customs from one generation to the next.
The Cape Verde archipelago, volcanic in origin, is comprised of ten islands and eight islets that are situated about 350 miles off the west coast of Africa and Senegal. However, most Cape Verdeans don't consider themselves either Portuguese or African. The Islands were actually discovered by ancient Phoenicians, and then later colonized and exploited by the Portuguese. The islands also became an infamous trading center for African slaves.
Most Cape Verdeans stay close to each other and stay true to their beliefs. The language they speak is Kriolu, which is a mix of a slang and Portuguese that wasn't even a written language until around the 1960's. Many are of the Roman Catholic faith, and they believe in the power of prayer. Something you will see on most Cape Verdeans are a cross and a "conta di odjo" (beads of eyes) which is traditionally a black bead with white dots. My mother gave me a red bead with white dots to wear because I have an illness (MS) that has no cure. So when other Cape Verdeans see me, they know to pray for me and my health. As children, you put the beads on a baby's onesie to keep all evil away, and as you grow up you put it on a chain, ring or bracelet.
Saint John's Day represents an important Cape Verdean family tradition. We all gather together in June, and when the drums come out, the party begins. There's the tradition of forming a parade, with family playing drums, dancing in the streets, going door to door, praying blessings on the homes of families until you've got the last one, and then raising the Masc (a large cross with fruit and ribbons tied to it) and celebrating our families.
Culturally, Cape Verde presents a vibrant mix of African, Portuguese and native civilizations. This diversity has created a one-of-a-kind culture whose influence is evident in the country's rich landscape of art, music, dance, and especially food.
The Food of Cape Verde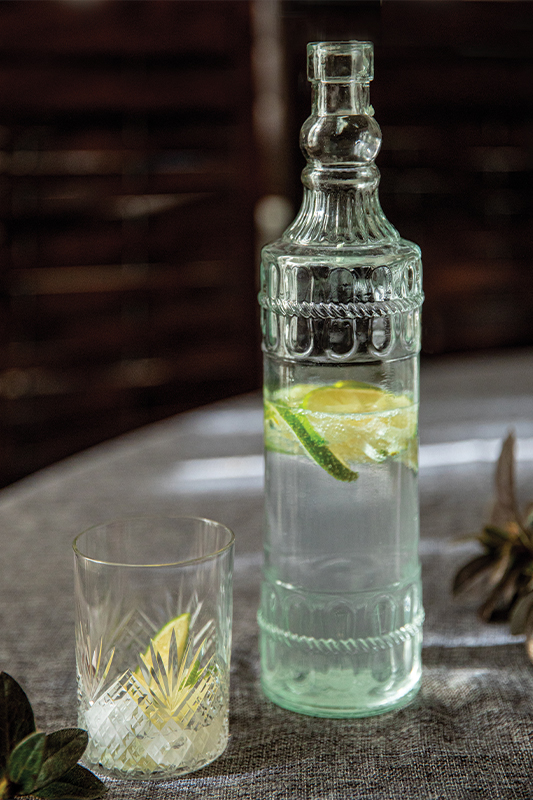 Foods and recipes from the islands are very important to each family and serve as a way to express love to others. In almost any Cape Verdean kitchen, you can always find a pot of "Jag"
(rice and beans) on the stove. In colder temperatures, you could enjoy a bowl of Canja (a type of chicken and rice soup), or Cachupa (a hearty soup with samp, pork, and butter beans just to name some of the ingredients) and a pot of strong coffee.
No matter the occasion, food is always the center of every home, with rich flavors, unique ingredients and love in every bowl.
For the New Year's celebration, like most cultures, Cape Verdeans have traditions of must-haves on the table. My mother's table would always include garlic herbed pork, jag, pastel (a stuffed pastry with white fish and herbs), mandioca (yuca root) kale greens with pork, pan-fried linguisa, (hard case Cape Verdean sausage) twelve grapes (for the 12 apostles and good luck in the next 12 months) gufongo (type of fried sweet cornbread), and tequila water with lime.
There is always the call before the day is over to get a blessing prayer from an elder in the family to start the year right.
What's your story?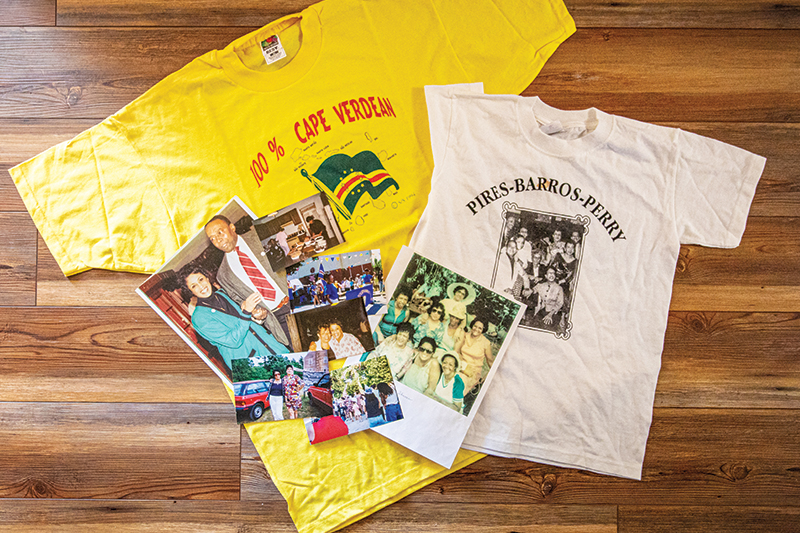 We all have a story of where we all began. So many families and cultures lose their nationalities, traditions, legacies by not teaching the next generation.
In my family, it is important even if we are miles apart to remain true to the people that came before us. My mom and dad came from two totally different cultures, but respected the differences, and built our family from that.
Music, food, prayers, discipline, and the love of learning and loving each other were the common denominator that they instilled in my family. The American dream can still come true for all of us even today. All of us came from somewhere to build this amazing country, and we can learn so much from each other from sharing. I'm thankful to bring a little of what has been given to me to our Owensboro community.
People ask me about my flavors, and they're hard to explain because love is the main ingredient. And I feel honored to keep my parents alive through the flavors of my past.
Jag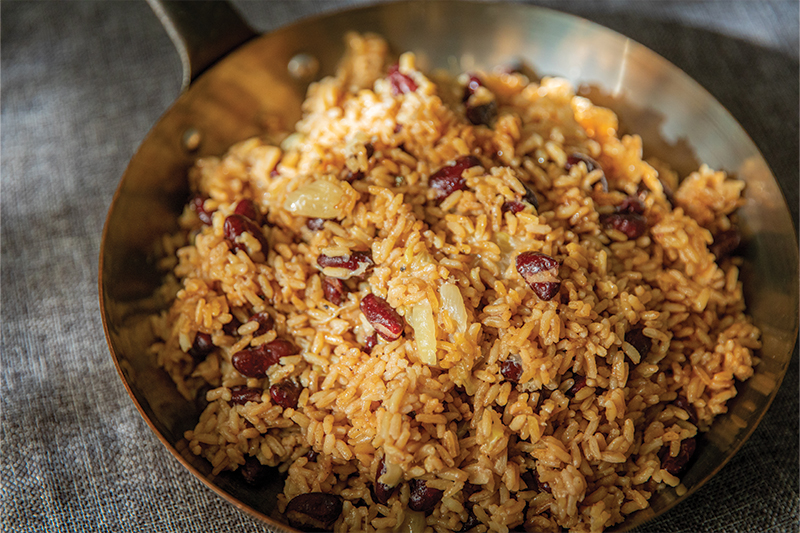 INGREDIENTS:
4 c. water
1 can beans (of your choice)
2 c. long grain rice
1 small onion
4 cubes chicken bouillon
Pepper (to taste)
Paprika (to taste)
INSTRUCTIONS:
1. Dice onion and saute over medium/high heat in butter or oil. Add seasonings and water to bring to a boil. Add beans and rice.
2. Cover and cook on low until done
(about 20 minutes)
Gainey's Greens with Pot Liquor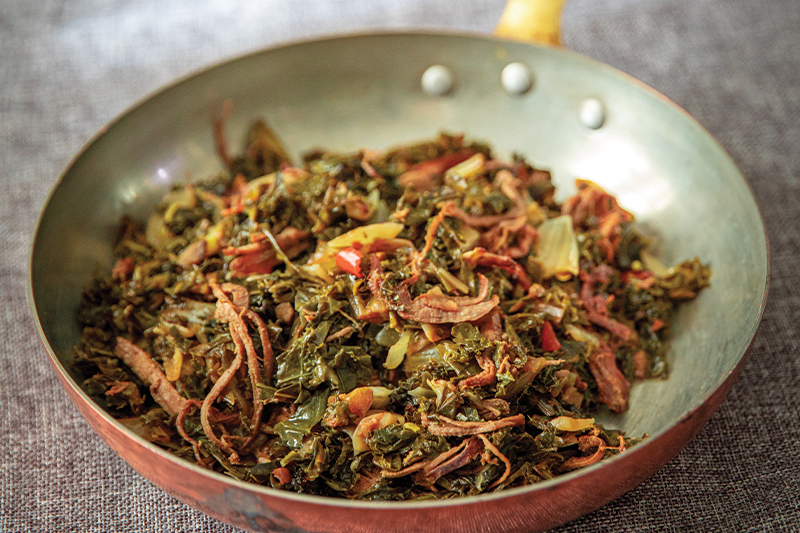 INGREDIENTS:
2 full bunches kale (washed and stripped off stem)
1 red onion (chopped)
4 tbsp olive oil
Pork fat with meat
Apple vinegar (to taste)
1 cup chicken broth
2 tsp black pepper
INSTRUCTIONS:
Cook down until tender on med heat in pan.
Chica's Old School Pork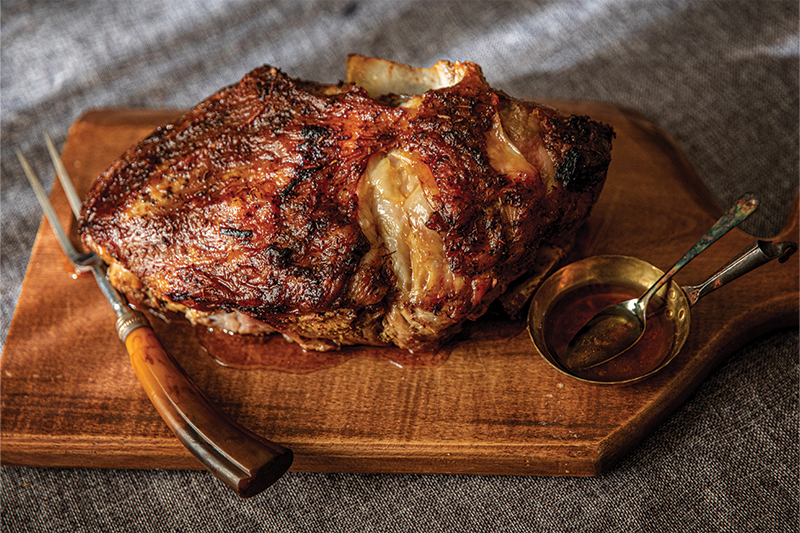 INGREDIENTS:
3 pounds fresh Boston Butt
25 cloves roasted fresh Garlic
4 tbsp olive oil
Dried Italian herbs
INSTRUCTIONS:
Roast in a clay pot 4 hours at 350 degrees until tender.
Mandiorka with Garlic & Butter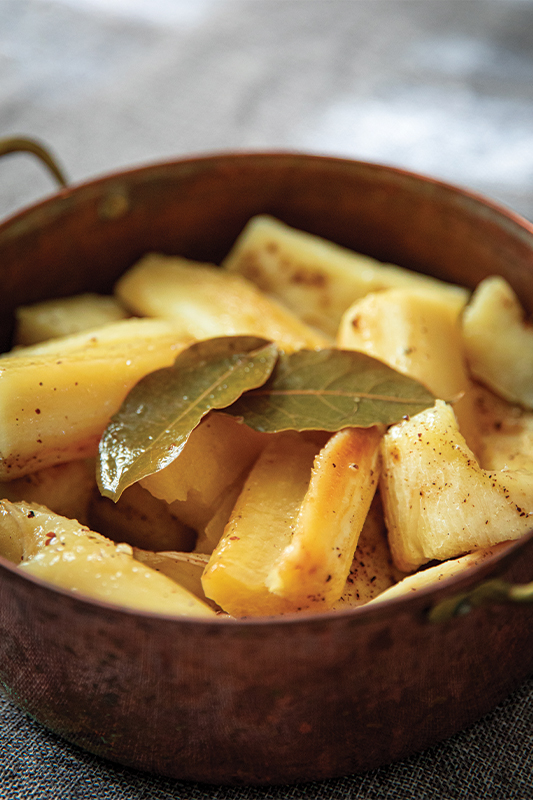 INGREDIENTS:
2 sticks butter
4 whole garlic cloves
3 tbsp olive oil
3 cups yuca root(peeled & cut up)
1 whole bay leaf
1 cup chicken stock
1 tsp black peppercorn
Goya (to taste)
INSTRUCTIONS:
Bake at 350 degrees until tender