Photos by Jamie Alexander
Whether you're enjoying fresh fruit from your own garden or gathering it from local farms at the farmers market, it is the best time of the year for an abundance of flavorful produce! It is one of life's simple pleasures to cut up ripe summer fruit to snack throughout the season, but sometimes it's fun to get a bit more creative with our treats. These are definitely some recipes that you'll want to make all summer long!
Smashed Blackberry and Goat Cheese Crostini
INGREDIENTS:
8 oz. goat cheese
2 oz. cream cheese
2 cups blackberries
1 tsp vanilla
2 tablespoons honey
pinch of salt (to taste)
1 baguette, sliced
olive oil
optional – fresh herbs (mint, basil, or thyme taste great)
INSTRUCTIONS:
1. Lay baguette slices in a single row on a baking sheet. Drizzle with olive oil and bake at 375 degrees for 4-7 minutes (until toasted).
2. Crumble goat cheese, cream cheese, and a pinch of salt into a food processor/blender. Pulse to combine, then scrape down the side of the bowl. Add around 2 tsp of olive oil and blend until the cheese is creamy/smooth.
3. Add blackberries to a medium-sized bowl, then mix in vanilla, honey, and salt until combined. Then, roughly smash the blackberries together with a fork.
4. Top crostini pieces with a spread of whipped goat cheese, then press a few of the blackberries on top, and garnish with a fresh herb of your choice. Serve immediately.
Grilled Peaches with Oat Crumble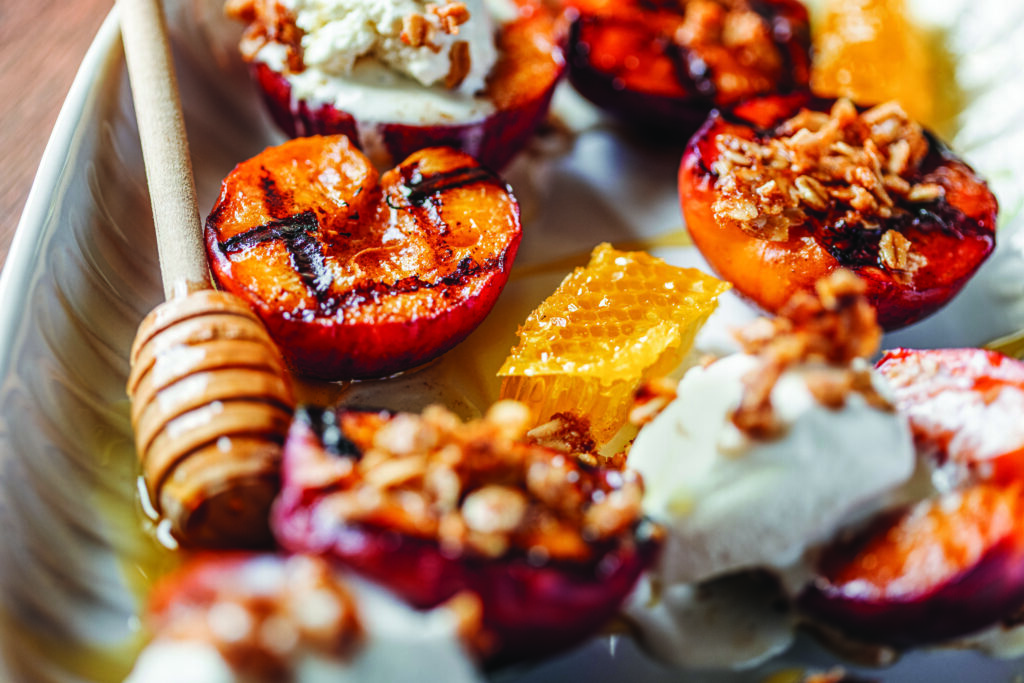 INGREDIENTS:
1/2 cup rolled oats
2 tbsp brown sugar
1 tsp flour
3-4 peaches, halved and pits removed
4-6 tbsp butter, melted
cinnamon
Honey for serving
vanilla ice cream
INSTRUCTIONS:
1. To make the oat crumble – mix oats, brown sugar, flour, 1/4 tsp cinnamon, and 4 tbsp melted butter together until combined. Spread on an even layer on a baking sheet and broil 3-4 minutes until bubbling and turning golden brown. Set aside to cool and break into crumbs before serving.
2. Preheat your grill to medium heat and brush the grates with oil
3. Toss the peaches in 4 tbs melted butter and sprinkle with cinnamon
(1 tsp or to taste).
4. Gently grill the peaches for 2-3 minutes (until char marks appear). Flip them and grill for another 2 minutes.
5. Remove peaches from the grill, top with ice cream, oat crumbles, and honey. Serve immediately.
Lemon Sorbet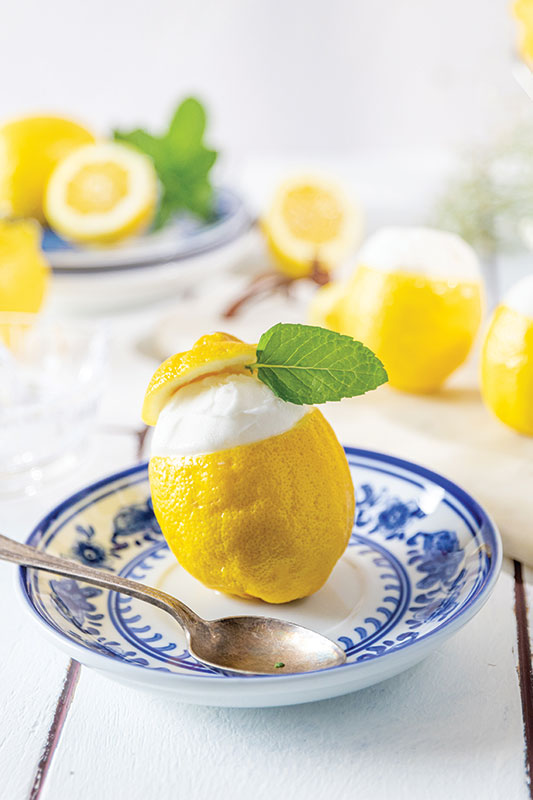 INGREDIENTS:
1 cup sugar
1 cup water
3 tablespoons grated lemon zest
3/4 cup lemon juice
INSTRUCTIONS:
1. Pour sugar and water into a small saucepan. Heat until it reaches a boil, stirring constantly. Reduce heat and let simmer uncovered for two minutes. Cool completely.
2. Stir in lemon zest and juice until combined. Pour the mixture into your ice cream maker and freeze according to manufacturer's instructions.
3. Transfer your sorbet into a freezer container, and freeze until firm. Top with additional lemon zest, and if desired, fill in hollowed-out lemon "bowls."