Owensboro's Dennis L. Newberry II receives Congressional Gold Medal
Even as a young boy growing up in Daviess County, Dennis Newberry II believed in the value of hard work. This tireless work ethic was evident during his high school years in Ohio as he split his time between completing his schoolwork, playing football, working at a defense plant and serving in the Civil Air Patrol on nights and weekends. That hard work continued as Newberry served nearly two years in the U.S. Army, earned a degree in commerce from Ohio University, and went on to dedicate 35 years of his life to Texas Gas, eventually serving as the company's president and CEO.
As hard as Newberry has worked throughout his 92 years, he has never been a man to seek attention or recognition for his efforts. When Newberry received the call last year informing him that he was eligible to receive the Congressional Gold Medal for his time with the Civil Air Patrol (CAP) during World War II, he was stunned.
"They called and said I was eligible for this medal," Newberry said. "I asked them to mail it to me and they said they couldn't do that — that we would have to have a full-scale presentation."
As far back as the American Revolution, gold medals have been commissioned by Congress in an effort to express appreciation for distinguished contributions and achievements. George Washington was the first to receive the honor in 1776. Other distinguished recipients include the Wright Brothers, Thomas Edison, Winston Churchill, Rosa Parks, The Tuskegee Airmen, and, most recently, the women who contributed to the NASA space program featured in the film Hidden Figures. In May 2014, the House of Representatives approved legislation that would award the Congressional Gold Medal to the CAP volunteers who served during World War II.
After several months of organization and preparation, Newberry received the Congressional Gold Medal on Saturday, February 8, during a special award ceremony at the Owensboro National Guard Armory.
"I was surprised to get it, and pleased," Newberry said. "It was a great ceremony — pretty impressive for an ex-infantry private."
Newberry joined the Civil Air Patrol as a cadet at the age of 15 while attending high school in Ohio.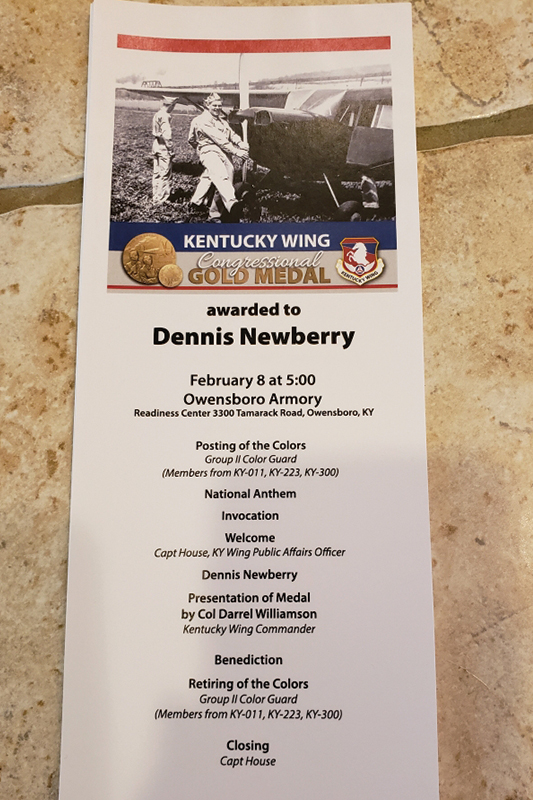 "We did the grunt work — carried out fuel, cleaned the planes, did dismounted drills and, on occasion, would spin a prop," Newberry said. "You were there to make sure the planes were serviceable…and occasionally cadets got to fly as observers."
The Civil Air Patrol (CAP) was established under the Office of Civilian Defense on December 1, 1941, just six days prior to the attack on Pearl Harbor. The CAP was created to utilize civilian pilots and airplanes in an effort to search for enemy aircraft and unusual water traffic. The cadet program was created in 1942 to help boys and girls ages 15-18 learn practical skills in preparation for military service. In April 1943, the CAP was transferred from the Office of Civilian Defense to the Department of War.
"Today's America cannot understand the America of 1942," Newberry said. "We feared the possibility of a Japanese invasion. We were poorly prepared, our Army, and particularly the Air Corps (which was part of the Army at that time). After Pearl Harbor, it was recognized that we had a valuable reconnaissance air force in civilian aircraft."
According to Newberry, despite their best efforts, planes were still lost along the coastal areas due to their light weight, poor weather conditions, or because they ran out of fuel and went down. Yet, Newberry still views the experience as a positive means of preparing him for the future.
"It was good training for me because, once you were 18, you went in the service and you kind of had a taste of it already," Newberry said of his time with the CAP.
Newberry trained in the U.S. Army as a gunner, and for a short time as a radio operator. He served 19 ½ months with the Army, including 10 months overseas as a replacement for the 88th Infantry Division in Italy.
"The war was over," Newberry said. "It was an exciting time to be there, I guarantee you."