As the weather warms up, it's time to dust off your clubs, and schedule a tee time at one of Owensboro's golf courses. Whether you're an experienced pro or a first-time golfer, Owensboro Living's guide to the area courses will have you off the tee box and on the green in no time.
[tw-divider]Panther Creek Golf Course[/tw-divider]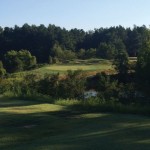 The golf course is located approximately 10 miles from Owensboro in rural, southwest Daviess County.  Panther Creek offers an 18-hole golf course complimented by a clubhouse with food and beverage service, and seating inside or outside. Whether on the wraparound porch or the patio area, views of the golf course are all around.
The golf course itself has two contrasting sides with the original nine, built in the early 1970's, and the back nine, which was constructed and open for play in 2000. The golf course was constructed around what was the old Panther coal mine.  The par 70 layout is very golfer friendly in terms of overall length and degree of difficulty.  Both nines offer a lot of character, with many holes defined by tall natural areas, mounding, sand and grass bunkers, elevated teeing areas, as well as water hazards, which can be found on almost half of the 18-hole layout.
PCGC offers a men's league on Tuesday afternoons, senior scrambles on Tuesday and Thursday mornings and ladies day every Friday. Seniors receive a discount everyday (55 and up) and special mid-morning and afternoon rates are available daily for the regular and the senior golfer.
Outings and scrambles of most any size are welcome throughout the season.
Panther Creek offers a unique blend of rural country setting along with the physical characteristics that define the golf course.
[tw-divider]Hillcrest Golf Course[/tw-divider]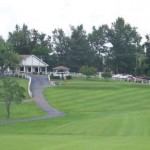 Hillcrest Golf Course is a nine-hole regulation course with four sets of tee markers. It features rolling terrain and small, bent-grass greens that require pin-point accuracy.  From the back tees, the course plays at 6,050 yards for an 18-hole round, with a course rating of 67.4 and slope rating of 122 for the par 70 layout.  Hillcrest has a practice putting green and chipping green on the 70-acre property.
Hillcrest was once Whitely Deer Farm, featuring deer and buffalo on the grounds until 70 acres were leased to the Owensboro Jaycees in the 1930's.
In 1954, the city of Owensboro's recreation board took over Hillcrest at the request of the Jaycees, and in 1969 purchased the property, making it a permanent member of the Parks Organization.
From 1999-2001, a series of improvements were performed at Hillcrest Golf Course. The City added Bermuda fairways, a new golf cart fleet, and the construction of a new pro shop, which opened in 2001.
Hillcrest golf course continues to be a city staple, with its ideal location and beautiful rolling terrain, which has proven popular with golfers of all ages.  The course offers an annual Business League, Men's and Ladies Association events and a Go-Series Junior event.  Its low fee structure and open design make it ideal for juniors, seniors, ladies and beginners, or golfers just looking for a quick nine holes of golf!
One of the unique features of Hillcrest is hole number 2.  It is a 136-172-yard Par 3, depending on which tees you play, with a postage stamp green.  The green slopes dramatically from back to front with runoffs on both sides.  This makes for a very difficult hole, even though it's a short shot.
[tw-divider]Ben Hawes Golf Course[/tw-divider]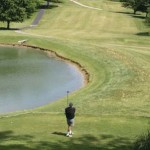 Ben Hawes Golf Course is a municipal golf course that is open to the public 12 months a year. Ben Hawes offers an 18-hole, par 71 championship layout that stretches to 6,635 yards.  It has practice areas that include a driving range, large putting green and separate chipping and pitching area.  It also has a nine-hole Par 3 golf course, that is lighted on the summer weekends and is great for a quick round, beginners, young golfers or just a chance to work on your short game.
Ben Hawes also provides a full service pro-shop with a selection ranging from accessories, golf balls, golf shoes and apparel.  Ben Hawes has an outdoor grill open on weekends during the golf season, offering cheeseburgers, hotdogs, bratwurst and a cold beverages.  In addition to the outside grill, a beverage cart service will begin late this spring allowing sales of snacks and drinks to customers on course.
Ben Hawes is host to many tournaments and outings throughout the season, including the final round of the Men's City Tournament, the Ladies City Tournament, and in June, a Kentucky Junior PGA Tour event.  The course hosts a Greater Owensboro Junior Golf Series event and is the home of The First Tee of Owensboro.  The First Tee offers juniors ages 5-18 an opportunity to learn about golf, as well as learn important life skills associated with the game of golf.  It certifies over 200 area children yearly and sees over 3,500 children through various school programming.  Ben Hawes is also the home course of the Brescia University Bearcats men's and women's golf teams and the boy's and girl's golf teams of Daviess County, Apollo, Owensboro and Owensboro Catholic High Schools.
One of the unique features of Ben Hawes is its layout.  The front nine is a par 35 layout that plays longer than its 3,165 yards.  Its number 2 hole was named the hardest par 4 in the Owensboro area by the Messenger-Inquirer in 2010.  The number 2 hole at Ben Hawes is a 444-yard, par 4 that doglegs to the right over a ditch, with out of bounds left and leaves a long second shot to an elevated green.  The back nine is a links layout and has a series of long par 4s and two par 5s in its par 36 layout.  Together they offer a player the chance to hit almost every club in their bag.  The hardest feature about Ben Hawes is the series of large ditches that intertwine between the front and back nine holes. The course also has 34 sand traps strategically located throughout the course.  The ditches come into play on eight holes, with the most difficult locations on the front nine.
[tw-divider]Owensboro Country Club[/tw-divider]
Owensboro Country Club was established in 1919 and is considered one of the finest private clubs in Western Kentucky.  The 18-hole course features tree-lined Bermuda fairways, bent grass greens, and four sets of zoysia grass tees, making it very golfer friendly with tee placements ranging from 5,294 to 6,518 yards– a delight for golfers of all abilities. Their family tees for younger players range from 2,142 to 3,573 yards. There are 5 lakes that add beauty and risk to your round of golf. Superintendent Kevin Glover and his staff are fully committed to keeping the quality of the course at the highest level attainable.
Owensboro Country Club also has a fully-stocked pro shop that carries the latest and greatest in all areas of golf from fashion to the newest clubs in golf today. The club also offers a full-service golf club repair shop. Some of the services available are lie and loft changes, extending and shortening shafts, re-shafting, and re-gripping. All of the repairs are done in house by a PGA Professional in a timely fashion to get you back on the course as quickly as possible. In addition to these services, OCC also offers private lessons and custom club fitting. Head PGA Golf Professional Jason Fitch has extensive experience in both private lessons as well as custom club fitting, using the Titleist Custom Fitting Systems.
Visit www.theowbcc.com for more information and also find a free mobile app download that is featured in both the Apple and Android stores.
Call the Owensboro Country Club now for current membership promotions and opportunities at (270) 683-6265, ext. 11.
[tw-divider]Windridge Country Club[/tw-divider]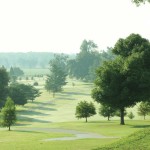 In 1848, the courts appointed County Judge George W. Triplett to purchase land in Daviess County in order to provide a place to live for those who were struggling. A 170-acre farm, five miles from the outskirts of town, was purchased for the so-called poor farm, which housed 8-10 residents. In 1890, a property tax was levied to help support the farm. By the 1950s, more governmental agencies were created to help the impoverished and new regulations came into effect. Compliance to the new regulations made keeping the farm open an impossibility. In 1957 County Judge T. B. Birkhead disbanded the farm and sold the remaining land. Floyd Jean, owner and operator of Jean-Purdy Sporting Goods Store, along with 30 couples, purchased the land and created the 9-hole family-oriented club, named Windridge by Virginia Dodson. The back nine opened in September 1961. The home of the caretaker of the poor farm served as the original clubhouse until a new clubhouse was built in 1962. The pool and pool house were added and completed by 1965.
Today the 18-hole Windridge course features 6,050 yards of golf from the longest tees for a par of 71. Windridge is one of the area's most attractive courses with rolling hills, challenging greens, numerous water features and strategically-placed sand traps.
Windridge Country Club is a semi-private course, open to public play on most days. The club offers three types of memberships: stockholder memberships, social memberships, and pool only memberships for families and for singles. The course is open for play daily with tee times required on weekends prior to noon. The pro shop is a small area where players and guests sign in for play, sign up for tee times, find information on upcoming events and can purchase towels, tees, balls, snacks, soft drinks and beer. Windridge Country Club also features a restaurant and lounge/bar, as well as a banquet room/ballroom/reception hall, which is available for rental to both members and the general public.
Windridge hosts a variety of events throughout the year. The golf course hosts an annual Men's Goldrush tournament and The Ladies Goldrush tournament, both of which are open to the general public. For members only, the club holds a Men's Member-Guest tournament, weekly Couples' Golf with a fall Couple Final Fling event. Additionally, a Memorial Day Scramble, a Fourth of July Scramble, a Labor Day Scramble and the Romeo and Juliet scramble are held annually and are open to the general public on a first come, first served reservation system. Windridge Country Club will also set up privately-hosted golf outings associated with weddings and other club rentals, and privately-hosted member activities, such as the annual John H. Ward Memorial Golf Scramble.
[tw-divider]The Pearl Club[/tw-divider]
The Summit opened in 1993 and was owned by the Miles family until Terry Delk purchased the club in February of 2014. The club includes the golf course, swimming pool, tennis courts and practice facilities. The Pearl Club golf course is a challenging 6,900 + yards from the tips and is noted as "Western Kentucky's Premier Golf Course." The views looking out from the course are superb as the course sits at the highest point in Daviess County. The Pearl Club has an entirely new management team, including Jason Cox, Head Golf Professional; Don Mitchel, Director of Instruction; Ben Newman, Course Superintendent; Scott Delk, Director of Food and Beverage; Melody Delk, CFO; and Terry Delk, CEO, and Club Manager.
TPC is a semi-private course where "the public is always invited and our members are catered to."  The restaurant is open Monday – Saturday 11 a.m. – 9 p.m. and Sunday 11 a.m. – 6 p.m. during season. It is also open to the public.
The Club boasts the area's only indoor, full swing simulator that is available by appointment to members and the public. Don and Jason are developing a new program for instruction and game development.  They are looking into starting a junior program, as well.
With recently converted fairways to zoysia grass last summer, TPC expects to have superb fairways and greens when the weather warms.
The Pearl Club pro shop is fully stocked with an assortment of clubs from Titleist, Calloway, Taylor Made, Scotty Cameron, Odyssey and more. They also carry balls, gloves, apparel and accessories.
For more information, visit their website at TPCowensboro.com or call (270) 281-GOLF (4653).