Photos by Jamie Alexander
After Owensboro declared itself the Bluegrass Capital of the World, the City formed a task force with a directive to use the genre to grow economic development and expand tourism.
In partnership with the Bluegrass Music Hall of Fame and Museum, the task force aims to attract a steady new stream of businesses and tourists to Owensboro, along with passionate and optimistic innovators.
A sustainable organizational structure allows the group to foster growth for companies within the bluegrass industry, and highlights existing bluegrass connectors.
"Linking our community's identity to bluegrass music is great, but taking specific steps to leverage our claim as the Bluegrass Music Capital of the World to drive economic development is smart," said Owensboro Mayor Tom Watson. "The task force is moving this initiative from an idea to a roadmap."
Retired school administrator and member of the task force and tourism board David Johnson said it is imperative to build the tourism economy around the proclamation. He said the support of local community leaders would ensure success after staking the claim.
"If you claim something, you have to be it; you have to have some authenticity," Johnson said. "We have a multi-million-dollar museum and hall of fame. We have a plethora of performances and festivals, and we have an Executive Director with a top-class staff in a beautiful setting."
Executive Director at the Bluegrass Music Hall of Fame and Museum and member of the task force, Chris Joslin, expanded on Johnson's thoughts, citing the many bluegrass initiatives the community already has in place.
"There might be some instances where a community stakes a claim, and they try to live up to it; we were already living it out," Joslin said. "There is no other cultural center in the world dedicated solely to bluegrass. ROMP operates on a national scale with an international draw, and our monthly magazine reaches subscribers in 50 states and 20 countries. We also produce 'My Bluegrass Story' here (at the museum), a weekly cable television story highlighting various artists."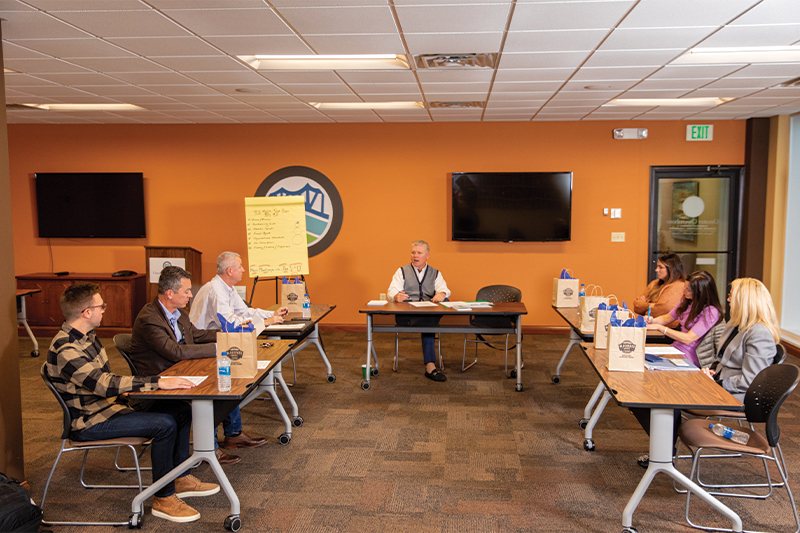 Johnson and Joslin joined Claude Bacon­—manager at Lingate Hospitality and a task force member—at the Kentucky Tourism Industry Association Conference. While there, they were inspired by keynote speaker Andrew Davis, author of Town Inc., a book that details strategies for converting "sleepy towns into thriving cities."
Inspired by Davis's presentation, the group took the initiative to bring him to town to speak to local leaders from the private and public sectors. Investments from the Mike Horn and William and Marilyn Young foundations funded the efforts that transpired during the fall of 2020.
With several pandemic protocols to ensure safety, members of the chamber board and economic board gathered at the museum for an entire day dedicated to the movement. Bacon said everyone left inspired.
"We bought the book for everyone, and Davis pitched the idea to local leaders," Bacon said. "From that point, everyone was excited and wanted to do it. The chamber and economic board came together with the mayor and declared their support for the movement."
The group said bluegrass has been "simmering" in Owensboro since the 1980s, thanks to the tireless efforts of many before them. Bacon and company said the potential for economic impact extends beyond tourism as other businesses and entities decide to join in the efforts.
"The task force and declaration present opportunities to build out an already successful tourism project with new festivals, concerts, consumer shows, and more, as well as increasing attendance at existing events," Bacon said. "The economic impact that extends beyond tourism is limitless as we discover additional entities that want to be a part of a supportive and thriving community that creates opportunities for people in Owensboro and Daviess County."
Members of the task force said it's also crucial that they enhance their partnership with Ohio County, citing the fact that Bill Monroe was born 20 miles away in the town of Rosine. The bluegrass community considers Monroe to be the father of the genre.
Johnson attributed the movement's authenticity to having an Executive Director at the Hall of Fame and Museum in Joslin who has dedicated nearly his entire life to the genre. He also said that Terry Woodward played a crucial role in initially bringing bluegrass to Owensboro four decades ago.
"What we've learned from other communities is when you start this, you don't know how it will unfold," Johnson said. "We think it will all be connected to music; that's certainly our tagline. Right now is the perfect time to expand our efforts and grow this community."
The initiative and task force funds were secured solely from private investors and groups. Members of the task force are Claude Bacon, David Johnson, Candance Brake, Sara Ford, Randy Lanham, Brittany Johnson, Keith Sharber, Jimmy Staton, and Jason Tanner.
"The big picture is that there is some real authenticity around this claim, and there's already substantial tangible evidence," Joslin said. "When you combine public endorsement with private support and entrepreneurship, you see communities thrive."