When Chris Hall was planning an anniversary cruise on the Grand Princess to surprise his wife, Nikki, he wasn't planning the extended trip they ultimately experienced.
On February 19, the two landed in San Francisco to spend a couple of days enjoying the city before boarding for a two-week cruise through the islands of Hawaii.
"We went to four ports in Hawaii," Nikki said, adding that it had been wonderful.
However, when the ship's captain told the passengers the scheduled four-hour docking in Mexico, prior to returning to California, wasn't going to happen, Nikki said this was the first time that passengers were made aware of the COVID-19 issues surrounding their cruise ship.
"There are only so many satellite channels…so we only checked in periodically," she said.
Passengers were aware there had been a passenger on the cruise prior to theirs who had been removed from the ship the same day their cruise left, but several crew members began experiencing similar symptoms, and the CDC was alerted while they were at sea.
On March 5, Nikki said everyone was told to return to their rooms for quarantine, and that the CDC had closed all public areas on the ship to help steer passengers to their rooms. Room meal service began at this time, along with a ship representative visiting each room to collect medical paperwork for prescriptions and asking for dietary restrictions.
Nikki said she and Chris took it in stride even though they were not getting much information about what was happening. The ship had arrived outside California, and they assumed everyone on board would be tested.
CDC helicopters began arriving on the ship, and those who were exiting were dressed in hazmat suits.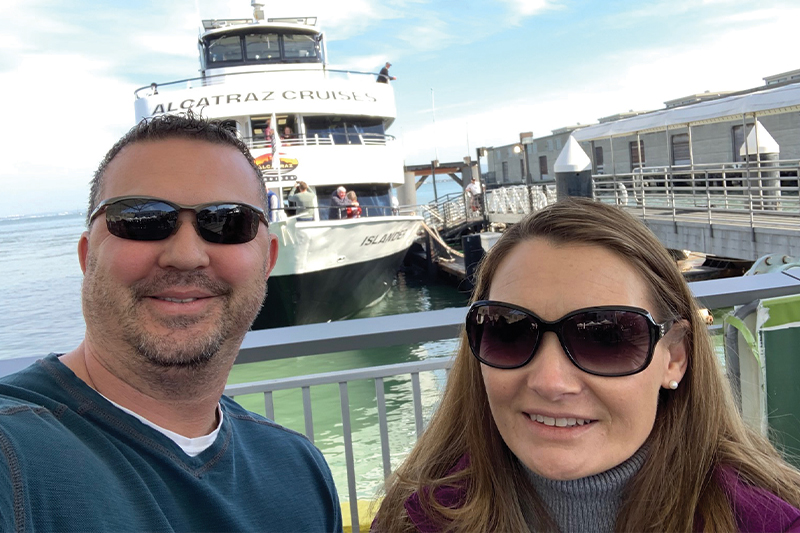 At home, the Hall's 14-year-old daughter was starring in a local play on the upcoming Sunday, and the Halls had planned to return on Saturday to see her performance. They remained hopeful and were calling family members to update them on their situation at sea.
On Friday, they had not heard any onboard communication about ongoing COVID-19 testing, but they heard on the national news that Vice President Pence had been on the boat and confirmed there were 21 cases on the ship.
Nikki said that until that point, the ship's captain had been sharing all information with those on board. She said he later told passengers through the ship's intercom system that he was upset with how they had received the news.
Chris' birthday was that same day, and Nikki said they were still remaining positive they would leave the ship.
"We were proactive and packed our bags," she said. "We knew we weren't coming home, and California didn't want us to come into port."
During the in-room quarantine, Nikki said they were lucky to have quarters with a balcony, allowing them some communication with other passengers.
Throughout the days they were at sea, in sight of California, Nikki said they would hear helicopters bringing CDC officials in to test passengers and then leave with the tests. The US Coast Guard would also pull next to the ship and a passenger would be lowered in a small boat to go back to the mainland. The captain was communicating with those onboard again.
Throughout the days they were at sea, in sight of California, Nikki said they would hear helicopters bringing CDC officials in to test passengers and then leave with the tests. The US Coast Guard would also pull next to the ship and a passenger would be lowered in a small boat to go back to the mainland. The captain was communicating with those onboard again.
"The Princess went above and beyond," she said, adding that cruise lines prepare for emergency events like this.
When the ship was allowed into Oakland's port on Monday night, March 9, she noticed there were people in hazmat suits, tents, ambulances, tour buses and moving trucks to handle the luggage.
"People were on the dock welcoming us back and cheering," she said. "It was emotional — it was a weird feeling that they didn't want us to dock."
While the port looked ready for passengers to disembark, nothing happened for several hours. It was then announced that the California government was going to get the sick members off, then Californians, other passengers from the United States and then other countries. Canadians were actually the first to leave because their government was ready for them to return.
Nikki said their room faced the staging area, so she was reporting to friends she had met on the ship what she was seeing, even though it was moving slowly. The passengers had been told that they needed to be ready to leave that day and that luggage tags would be brought to their room when it was time to go.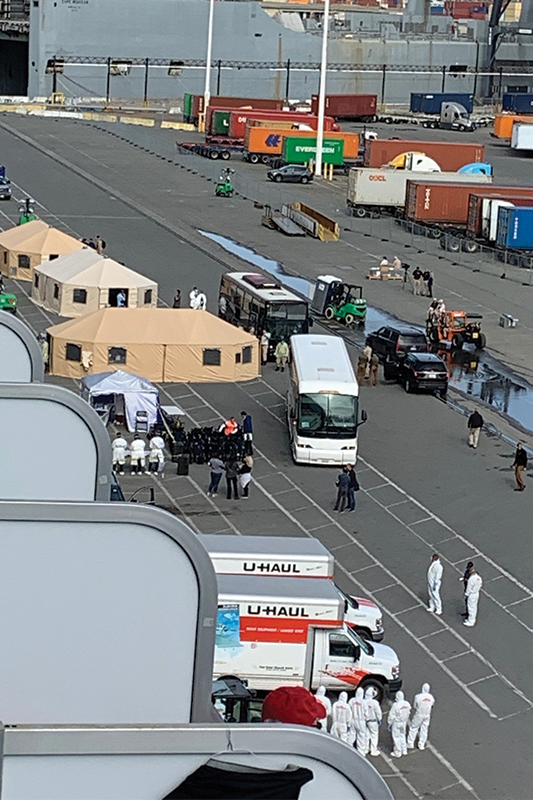 By Thursday the 15th, the Halls were still in their quarters and Nikki said she was getting nervous. It was then they received their luggage tags; however, they were told to keep a carry-on with 24-hours of necessities.
"The longer you're on the ship, the better chance of getting it," she said. "But I wasn't in control."
The next day, the Halls were finally called to board a bus and be taken to board a flight to Dobbins Air Reserve Base in Georgia.
They arrived at 3:30 a.m. and were checked for fevers and provided snacks. At 6:30 a.m., the Halls arrived to their room, after walking past armed guards in the courtyard.
At the base, Hall said food was delivered to their rooms. It was sporadic at best, with some not receiving food from dinner until lunch the next day. Those relegated to the base were not receiving the same communications, and there was very little interaction with those entrusted with their care.
"It was crazy, it didn't make sense," she said of the amount of time they had to prepare for their arrival and the conditions in which they were living.
While at the base, Chris took to social media and was also calling Kentucky state legislators to try to get the people from Kentucky home for their quarantine. He was also asking people to reach out on their behalf to representatives.
Through Chris' persistent efforts, including a video of the frozen meal that was still so frozen it was inedible, and the town hall meetings being held at the base with officers, all were fed that evening, after a full day on the base.
Sunday, the state of Kentucky sent representatives to retrieve its people to bring them home for quarantine. Almost one month later, the Halls were on their way back home.
On March 15, the Halls arrived at home with regulations already set as to how their family would operate through this self-quarantine period. Their daughter and 19-year-old son, along with other family members, had sectioned off the house, putting what the couple would need in their bedroom, bathroom and office area. Those were the only places the couple would live during this time.
Although the couple would visit the kitchen, they were careful to wipe down anything they touched, and were not in the space when another family member was there.
Hall said their return was tough on all of them because they are a naturally affectionate family and this was a time of heightened emotion.
Each day, Nikki and Chris contacted the Green River Area Health Department with their daily readings. Their son would bring home provisions the family needed, and the community reached out to show their support.
"We were reaching out for anything to be closer to family," Nikki said of the Facebook post with her touching hands with her daughter — both in gloves and masks.
On Tuesday the 25th, they found out they were negative, as all of the Kentuckians on the bus home had been, and could now have contact.
"You value those moments," Nikki said.
Their first trip out of the house on Thursday the 26th was to visit their parents and in-laws, who live next to each other in Hancock County, so they could see them for themselves and to just have some normalcy, while also practicing social distancing.
And through it all, Nikki continues to remain positive. They were given a free cruise from Princess along with all costs being refunded. She said this will not affect their cruising lifestyle, and they will board again.
"They really went above and beyond," she said of the cruise line.