From the tiniest child learning how to play fiddle for the first time, to the aspiring singer-songwriter that wants to fulfill their Nashville dream, Randy Lanham has become a signature name in our community. Over the last 15 years, the former country/bluegrass celebrity has transitioned into a motivational songwriter, inspiring music mentor, and influential coach.
At the age of 20, the former state fiddle champion moved to Nashville, Tennessee to pursue his country music dreams. "Being in Nashville provided me with the opportunity to play for recording artists Clay Walker, Wade Hayes, Tracy Lawrence, and Tanya Tucker. I've toured with George Strait, Brooks & Dunn, Alan Jackson and Faith Hill. That was a season in my life that I loved. I learned a lot and met a lot of people. I got to see the country, be on many TV shows, and do big tours with shows in front of 30,000-plus people." It would seem that Randy's dreams were just beginning to come true, and then he began to struggle with the symptoms and effects of a form of spinal arthritis. Although he noticed these symptoms as early as age 18, he was finally diagnosed at age 24 with Ankylosing Spondylitis, a form of inflammatory disease that can cause the vertebrae, hips, and pelvic bones to stiffen, causing extreme pain and stiffness. This condition primarily affects young men, which is why Randy found himself needing a hip replacement in his twenties. In 2000, Randy made the bittersweet choice to stop touring full time, and soon exchanged his role as traveling musician for that of music instructor and family man. Randy says of his decision, "Although it was great, I do not miss touring. I really love being home with my family. This new season of my life is to teach music, mentor to as many as possible, serve others, and grow closer to God and my family."
Since returning to the Owensboro area, one of Randy's many contributions to the community is mentoring promising young talent through High Hopes Music. Randy says, "It was a name that I came up with to inspire people to bring hope through their music and use it to serve others and praise God with it." Randy has worked with countless young artists to not only improve upon their musical talents, but to realize how their passions for music can play a practical part in their futures. Singer Natasha Neely is a graduate of Belmont University with a Music Business Degree, and now works full-time as an entertainer in Nashville. Singer and fiddle player Emily Wills is now attending Appalachian State University in Boone, North Carolina, where she is pursuing a degree in music therapy. Randy mentored 13-year-old music prodigy Annabelle Watts on bluegrass fiddle, guitar, mandolin, harmony and lead vocals. He helped her to record her first CD, which is now getting radio play all over the United States. Randy also worked with artist JD Estes, who plays fiddle, bass, and guitar in several bluegrass bands, and is now attending the University of Louisville on a music scholarship.
Randy not only helps to instill confidence in musicians such as Leland Isbill, who plays blues harmonica regularly at the Lanham Brothers Jamboree, but he also helps to make artists' recording dreams come true. "I really like to inspire students to be confident. I love to prove to people that they can play an instrument, sing, perform, write and record, etc. Many people find out fast that learning music is really hard to be good at. My students and I play five to six shows throughout the year so that they can become confident to perform, and learn to serve others. We play at the Wendell Foster Campus, Active Day, and nursing homes in the area. I also record with some of my students, because they love the experience and love to give copies to family and friends." He has helped record CD's for singer, songwriter, and mandolin player Alexis Roby, the local teenage bluegrass band Gaining Ground with Hayley Payne, Skylar Lanham, Seth Pence, Tyler Albert, and Zack Merritt, as well as family bluegrass bands Becky and The Butler County Boys, and the Lake family.
Randy has worked with young music prodigies, encouraged a teen American Idol, and is helping to shape the future of country music and its related professions. But he teaches more than just music. Although Randy has an incredible gift for playing the fiddle, it is his songwriting and mentoring skills that have made the biggest impact on his students. Former American Idol contestant, Jenny Beth Willis, says, "If it wasn't for Randy, I never would have been on the show. He is the one who called my mom the day that American Idol had auditions in Bowling Green and told her she should take me to audition." Jenny Beth began guitar instruction with Randy as a teenager, before they began writing songs together. Jenny Beth recently recorded a six-song EP (extended play, containing more musical tracks than a single), and is currently attending Trevecca Nazarene University in Nashville, Tennessee, where she is a sophomore music business major, who hopes to one day be an entertainment attorney in the music industry. Jenny Beth confides, "Randy has always believed in me and has definitely helped shape me into who I am as an artist and also as a person. Randy has had a huge impact on my life. I consider him a great mentor and a great friend."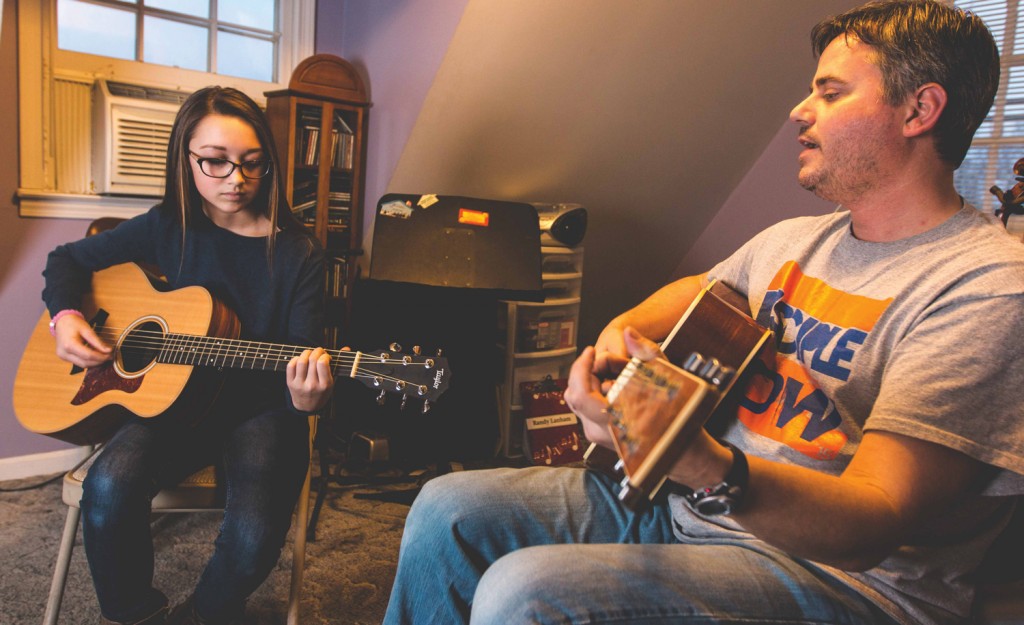 Randy began teaching Skylar Cain how to play the fiddle at the International Bluegrass Museum at the age of seven. Although her parents, Chris and Michele, recognized that Skylar had talent around the age of six, she was not able to take private lessons until several years later. Michele says, "At six, we knew she could sing, but we didn't just want her to sing, we wanted her to be well-educated in the music industry…to be humble and respectful, and Randy teaches her all that. He keeps her grounded, is a great spiritual leader, guides her, and reminds her to practice." Although Michele and Chris were eager for Randy to work with Skylar, they admit, "We didn't know that he and Skylar were going to hit it off so well." Skylar, who is now 13 and has won numerous local country music contests and awards, now prefers to focus less on winning contests and more on the art of songwriting. Michele says, "When he and Skylar start writing music, something magical happens…I would like people to know that he is more than a music teacher…he's like part of our family."