The lights dimmed in Cannon Hall, cuing the start of the Owensboro Symphony Orchestra's 49th season, and Maestro Nicholas Palmer took the stage to thundering applause, coolly taking his spot on the podium. The theme for the 2014-2015 season is appropriately entitled "Play On." With more than 60 services annually, reaching an estimated audience of more than 50,000 per year, that's exactly what they plan to do.
But as the OSO nears its 50th season, there is absolutely no hint of staleness, or anything close to being out of touch. It's quite the opposite: there seems to be a newness in the air and a sense that Nick Palmer and company are all about keeping things fresh and unexpected. A few weeks ago, the symphony hosted "White on Second Street," an al-fresco, European-style dinner, just outside their front door, in the middle of Second Street. A few weeks before that, they staged a "flash mob" performance in the middle of Friday After 5 that garnered 7,400 views on YouTube (and is still climbing). Add to that over 1,100 followers on Facebook, and you get a sense that OSO is being very intentional about bringing their "classical" medium to modern times while still staying true to their craft. And, yes, it can be cool!
The result? A packed house on opening night.
Owensboro Living is proud to designate the cover of this issue to the Owensboro Symphony Orchestra, and was honored to sit down with Maestro Nicholas Palmer, who just began his 16th season as director and conductor, to get a backstage view with the OSO.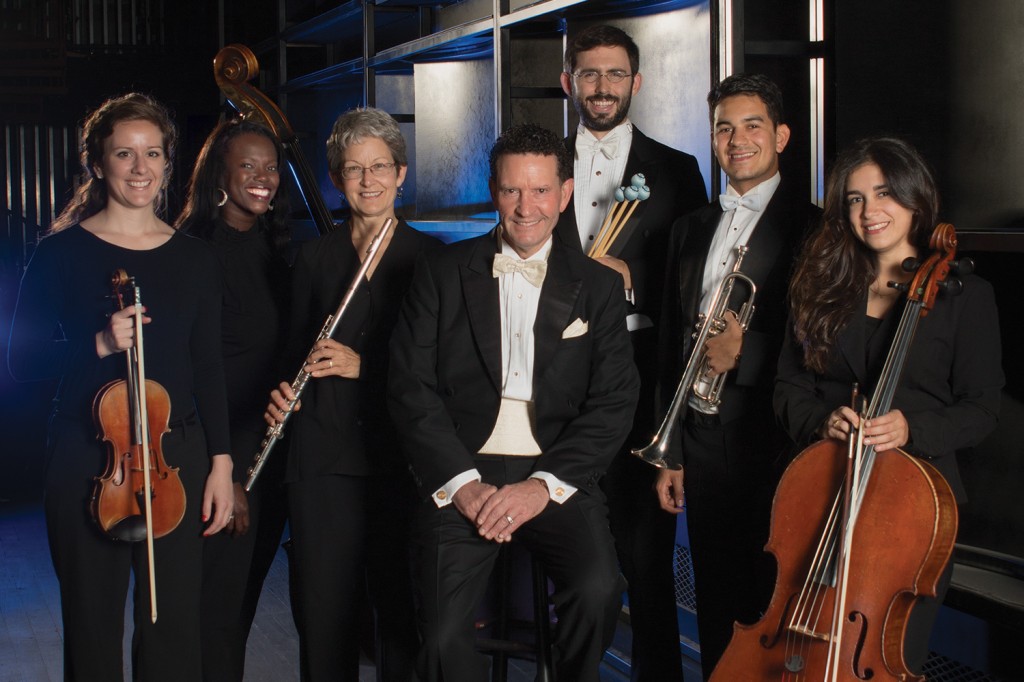 OL: Congratulations on hitting the 15-year mark!
NP: Thank you! Yes, I can say it's been a great ride and every year it gets better… better artistic quality, more community support, and the ability to reach more people through new and unique performances and events.
OL: You have lots of credentials and lots of experience. What attracted you to take the job at OSO?
NP: It was four things actually: the financial stability of the organization, the great artistic quality of the orchestra, the support of the community (city and county), and the wonderful hall. (RiverPark Center's Cannon Hall.)
OL: You seem to be having a lot of fun up there on the conductor's podium, and you interact really well with the crowd. What do you enjoy most about conducting?
NP: Being able to provide the live experience of a great concert in our wonderful hall, in a great community that loves great music; it's that synergy that works together to make everything gel.
OL: I've noticed OSO doesn't just stay in Cannon Hall – you get out in the community with things like Concert on the Lawn, the Church Series, and the White on Second event.  Was that something you brought to OSO or did OSO have that tradition already in place when you got here?
NP: Over the past several years we have tried to bring the orchestra to as many new people as possible. That means new events, new venues, and even playing outside of the Owensboro community, across the region in Central Kentucky and Southern Indiana.
OL: You've done some things recently that are pretty progressive – like Aaron Kizer painting during an OSO performance and the flash mob, in particular. How do those ideas come about?
NP: We want to keep things fresh and we want to keep up with trends in our business that are successful. We also want to be on the cutting edge.
OL: It was a great crowd opening night.  What keeps subscribers coming back year after year?
NP: We have some very savvy people in Owensboro. They know what they like and they like having a fine orchestra performing in their wonderful hall. They – and we – see no reason why we can't be performing at the same level as any other orchestra in any larger city in the country. That's what we strive for.
OL: OSO has a special reduced rate for first time subscribers.  What can new subscribers expect at OSO performances?
NP: We love seeing new faces at the symphony. It's a great deal to get 50% off for new subscribers and every year we have more people that take advantage of this option.  It's exciting for us when they renew after the first season. Our new subscribers can expect a fun evening out with great music and a welcoming atmosphere
OL: What are your hopes for the future of OSO?
NP: There are so many things we can do in Owensboro. I would say that most importantly we want to keep pace with the growth of the city.  This is a vibrant and exciting community where new things continue to happen. We want to be a big part of everything that's happening in our city.  We would like to see more and varied events such as different types of concerts throughout the community, as well as strengthening our current programs.
To come see what the excitement is about, you really need to experience it firsthand. Like Maestro Palmer said, OSO stays on the cutting edge. From a long tradition of excellence, we always expect quality from the OSO, but we also never know what they will try or do next. That seems to be part of the magic. And it's working!
Tickets can be purchased by calling OSO at 270-684-0661 or online at www.theoso.com.
[tw-divider]DID YOU KNOW?[/tw-divider]
The OSO was founded in 1967.
OSO has toured with LeAnn Rimes, Anne Murray, Dionne Warwick and many other performers.
OSO is one of the smallest orchestras in the country to operate its own academy.
Since opening the Academy 9 years ago, OSO offers over 20 educational programs, serving about 20,000 students in 14 counties. (As compared to 5 programs before the Academy.)
Before each concert there, is a pre-concert lecture at 6:45 p.m. in the Holbrook Balcony of RiverPark Center. Each lecture features a different speaker.
Contrary to what many people think, formal attire — such as tuxedos and evening gowns — is not required at Symphony concerts. Wear whatever you'd like. Most concertgoers wear business or cocktail attire. Jeans are totally acceptable!!