Down by three. Six seconds left. Sixty yards to the end zone.
You'll never hear OHS football coach Joe Prince call the miracle play that sent his team to the Class 4A State Championship game (and earned a spot on the ESPN Top 10 Plays and a mention in USA Today) a "Hail Mary" pass. He calls it the "Our Father" pass, because, as he puts it: "We go straight to the top when we ask favors."
The play called was "verticals," sending four receivers straight down the field. It was quarterback Nick Locher's adjustment to make it a three-by-one formation to get all the receivers on the same side of the field. The last thing Coach Prince said to Locher was, "Hey Nick, just throw it up there. You gotta make something happen."
Of course that's just what he did. "There was something that told me this game wasn't over. I can't explain why, but I believed something was going to happen," Locher said.
The result was absolute pandemonium – the kind of moment you experience once in a lifetime. It will be local legend for generations to come. But for the 2014 OHS football squad, it was actually just one play in a season full of spectacular highlights and gut-check moments that lead to the state championship game at WKU's Houchens L.T. Smith Stadium.
Truth be told, there actually was a lot of prayer that went into that "Our Father" pass. The sidelines went wild. The stands erupted. But the coaches on top of the press box all took a knee. Assistant Coach Todd Houston recalled, "We were all jumping around and hugging anyway, so we all just knelt and prayed in thanksgiving right then and there."
"I immediately dropped to one knee and said a prayer to the Lord and thanked Him for blessing us. Because there's no other way you can explain it," Coach Prince said. Arius Phillips was praying before the pass was even caught. "As soon as Nick let it go, I turned my head. 'Please God, please God, please God!' Then I turned my head back just in time to see it all happen."
Yes, it was exciting. But what the headlines won't tell you is that moment does not define this team. Losing in the state championship game also does not define this team, because the 2014 Red Devils rose to a rarely found higher level by truly becoming a family of one heart and one mind, completely focused on a single goal.
"If you look back, each of the last five years we made one extra step," said Prince. "We lost in the first round, then we lost in the second round, then we lost in the third round, last year we lost in the semifinals. So this year, this team set a goal at the beginning of the season to take it that extra step and make it to the state championship."
They did exactly that.
No other team cut their season short this year. Their goal was to play all 15 games and make it all the way to the state championship game – and they did it.
As a school with a storied tradition, including four state championships (1917, 1974, 1983, 1986), a long line of former players who went on to play in the NFL, and a coach who was named 2013 Kentucky Football Coaches Association Class 4A "Coach of the Year," OHS is a perennial powerhouse. Which means every Friday night they've got to be on their game because the other team will be bringing their best. This year's team proved time and again they were up to the challenge of each opponent – and the challenge of living up to their rich tradition.
What made this team special? According to the coaching staff, part of the reason is they were very coachable and took constructive criticism well. From watching game film to critical moments in practice, these players welcomed teachable moments, worked at them in practice, and got better each week.
Another defining mark about this team is how "deep" they were, meaning there were different big play makers in critical moments throughout the season. Yes, Nick Locher is a Division 1 quarterback (he is committed to BYU), and KiShawn Walker scored on the Our Father pass, but there were also players making crucial plays that didn't make headlines. Michael Johnson is a perfect example. He made a key tackle just before halftime in the Madisonville playoff game that kept them from scoring and turned the momentum of the game. Another is Gabe Fillman, who caught and fell on the onside kick that set up the miracle play at Oldham County.
"It was so neat to see these guys progress each week," said assistant coach Todd Houston. "We were a better team in week 15 for the championship game than we were in week one, and that's because they had such a desire to get better." Admittedly, there is a little bit of luck involved in getting to the championship game, like the miracle play we just mentioned. But this team was only in the position to win that game because of the hard work that allowed them to be in that situation deep in the post-season. "I can tell you that this group of guys worked for everything they got this year and I'm so proud of them because they aspired to be great. And that's what they were this year," Houston said.
"What people don't realize is this season started last January in the weight room," Coach Prince said. "Every day, starting from back at the first workout, I reminded them that today is an opportunity to get better. Our kids wanted to be in that state championship. They set that as a team goal for this year from the very beginning and they did it. Our leadership was very, very good this year and I think that also is what separated this team."
It was that strong leadership that carried through even after the championship game. "I told the kids that win or lose, this doesn't define us. We define ourselves the rest of our lives," Prince explained. "So win or lose, we're gonna celebrate. We're going to win and celebrate with class, or we're going to lose with class. Either way, it has been a great year."
True to form, when the game was over, OHS walked over, shook the winner's hands, accepted the runner-up trophy, and then went to the locker room. There may have been tears, but they walked out with their heads held high.
"I'm really blessed to have been around these guys. I am so proud of this team because of the class they showed, even in defeat. The way they acted, the way they believed in each other, the way they treated each other, the way they forgot all the differences that can hold some people apart is truly amazing," Prince said. "They are tight with each other, on and off the field"
And that's the other thing the headlines don't tell you: how diverse this team is, and how close they became. In a society that is rioting over race relations in St. Louis and New York and other communities around the country, these 65 kids from Owensboro – white, black, Hispanic, well-off, less fortunate, and everything in between – truly became like family, united by a common purpose.
No, this season wasn't just about a miracle play. It was about transcending those lines, relying on each other, achieving a goal, and living a dream.
To OHS fans, and our entire city, this team will always be winners.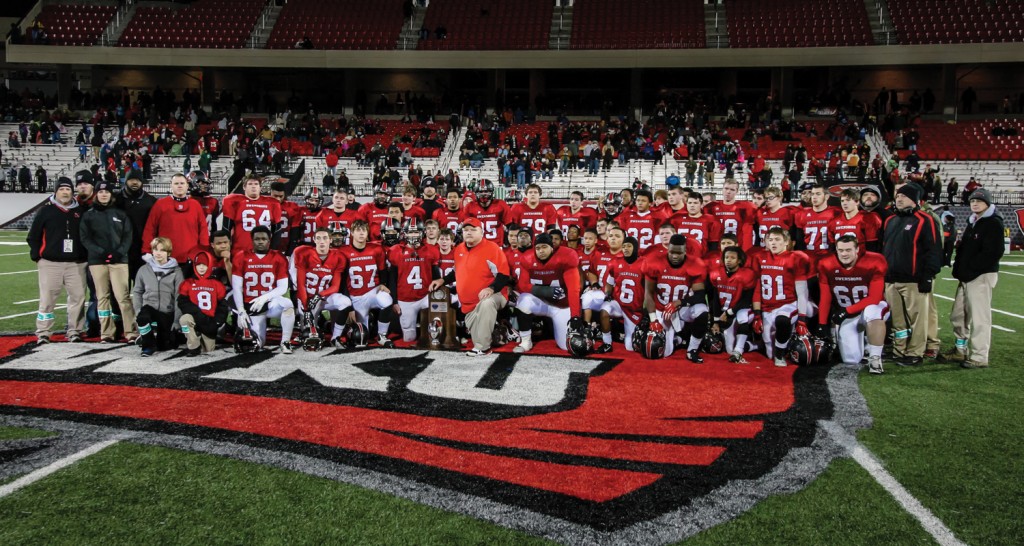 [tw-divider]The Regular Season[/tw-divider]
Owensboro finished the regular season with nine wins and two losses. Those two losses were each pivotal points. After beating the other teams in town, OHS squared off against Bowling Green, who also has a strong tradition. "That game was a great test for us to see how we stacked up against some of the better teams in the state," Assistant Coach Todd Houston said. OHS lost by a single touchdown, but that level of competition was good preparation for stronger teams to come. The only other loss came toward the end of the season, when OHS faced Henderson County. "Henderson was a great wake up call for us," Coach Prince admitted. "We had gotten a little distracted, but after Henderson we got our focus back and got back to work."
[tw-divider]The Post Season[/tw-divider]
In Round One, OHS easily defeated Breckenridge County 49-0. Round two was a back and forth game with Warren East until the Red Devils finally broke it open late.
The Regional Championship game was a thrilling come from behind victory against Madisonville-North Hopkins. Madisonville came out ready to play and put the Red Devils down by 21 at halftime, but Nick Locher and company came back strong in the second half, scoring right away, recovering an on-side kick, converting a fake punt, defending a fourth-and-goal stand, eventually tying the game, and finally taking the lead with a two point conversion to win 29-28.
The State Semifinal game against North Oldham was another hard fought, back and forth game. North Oldham appeared to have the game won when they hit a 32 yard field goal with 6 seconds remaining. With time for only one more play, Locher heaved the ball down the right sideline. The ball was tipped by a North Oldham defensive back and then tipped into the air by Jahlil Barrett over another North Oldham defender, finally landing in the arms of KiShawn Walker, who outran four other North Oldham players to the end zone, setting off a wild celebration and sending OHS to the 4-A KHSAA State Championship!
The play went viral on OwensboroLiving.com (with over 10,000 views) and other websites and eventually caught the attention of ESPN, earning a spot on the SportsCenter "Top 10 Plays."
[tw-divider]4A State Championship game: Fort Thomas Highlands[/tw-divider]
Unfortunately, it didn't turn out in the Red Devil's favor, but the 4A state championship game was a hard fought, high scoring game in front of a large crowd at Houchens L.T. Smith Stadium at WKU's campus. The student section was huge and the Owensboro crowd was in full support.
Getting to the state championship game takes dedicated players, good coaching, a lot of hard work, a little bit of luck, and a great work ethic. This team had it all. With so many starters returning next season – on both offense and defense – it will be interesting to see how next year's team carries on the momentum.
This article was featured in the January/February issue of Owensboro Parent Magazine.