Photos & Illustration by Jamie Alexander
Our state is one of the country's leading producer of horses overall, with horses being one of the state's most profitable areas of agribusiness. Kentucky benefits from the equine industry in both direct and indirect ways; from the consumption of agricultural products by the horses, to the lodging and local meals people from other states purchase when attending horse competitions.
Even though Lexington and Louisville are considered the "core" of the Equine Industry in the state, Western Kentucky still has a thriving horse community; especially when it comes to Quarter Horses and Thoroughbreds. One of the most famous Thoroughbreds from the Owensboro area was Spend A Buck, winner of the Kentucky Derby in 1985. After moving on to win the Jersey Derby, Spend A Buck held the largest single purse in American racing history (at $2.6 million), until Smarty Jones won the 2004 Kentucky Derby.
We had the opportunity to visit just a few of the many prosperous equine farms around Owensboro to get a bit of their history and learn how they continue to grow.
Foster Family Racing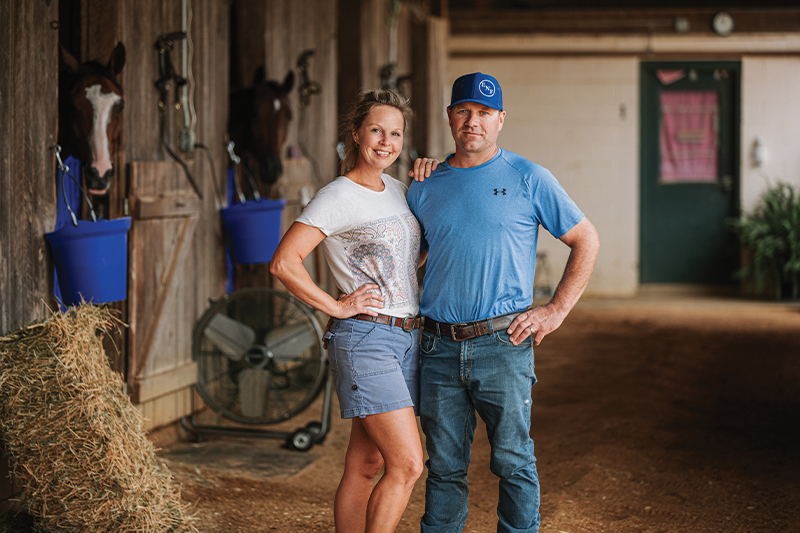 As Eric and Brooklyn Foster prepared their 16-acre farm in Utica, they bought a mare with plans to eventually sell her foal. A year later, they ran into some issues while trying to sell the baby, which led them to keeping it and training it to race. After finding success with their first horse, they began to add more. Ultimately this led to them leaving their jobs to manage their farm full-time.
The Fosters now enter over 100 races annually. They frequently find themselves on the leaderboards, traveling year-round to race in several different states. They've had up to 21 horses at a time, taking on most of the work themselves and continuing to gain more knowledge as they proceed. "You can't learn it all" Eric says, "you never graduate – you just keep growing." While Eric does a lot of the planning, ordering, and scheduling of the races, Brooklyn works more hands-on by grooming and caring for them. They even incorporate their kids into the farm, with their daughter Jolene helping with therapy and as an extra farmhand when needed.
The Fosters do all that they can to ensure the Thoroughbreds are treated like the athletes that they are. "Each horse has a special place in our heart while they are with us," Brooklyn stated. "Their welfare takes precedence over everything." From regular equine chiropractor visits to electromagnetic therapy and massages, they do what they can to make sure the horses stay healthy. "The horses often stay cleaner than I do" Eric laughed, "and they always eat better."
While the Fosters feel encouraged by how far they've come with racing in an ostensibly short amount of time, they also try to be diverse, so they aren't counting on all their income coming from one area. That is why, along with owning their own horses, they also train for other local owners.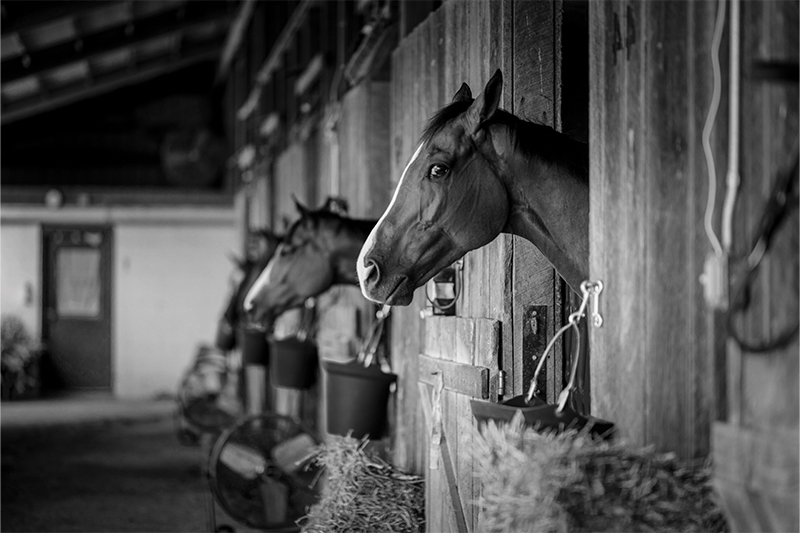 "There are actually a lot of owners around Owensboro. They like to come visit their horses and be a part of their day as they watch their progress. They couldn't get that if they were training their horses in Lexington or Louisville." The Fosters often board their horses at Ellis Park in Henderson, which (along with their farm in Utica) is a location that works great for them as it is central to all the other tracks they race. They stress the importance of Ellis Park being a part of the Kentucky Commonwealth, with horses coming from a variety of different states bringing money and jobs to the area. They regularly try to incorporate that idea into their own business practices, as well. "Shopping local is a big deal to us. We support local farmers with our hay, and feed mills with our feed. Everything we do, we try to keep our dollars in Kentucky."
As Foster Family Racing continues to grow, they take comfort in the fact that interest in the equine industry holds steady. "In Kentucky, it's hard to find somebody that hasn't been touched by the horse industry in some way. Especially in Owensboro. People just love talking to us about it." Although the Fosters weren't expecting the level of success they've had, the support they've encountered along the way makes them look forward to what the future holds.
Paradise Stables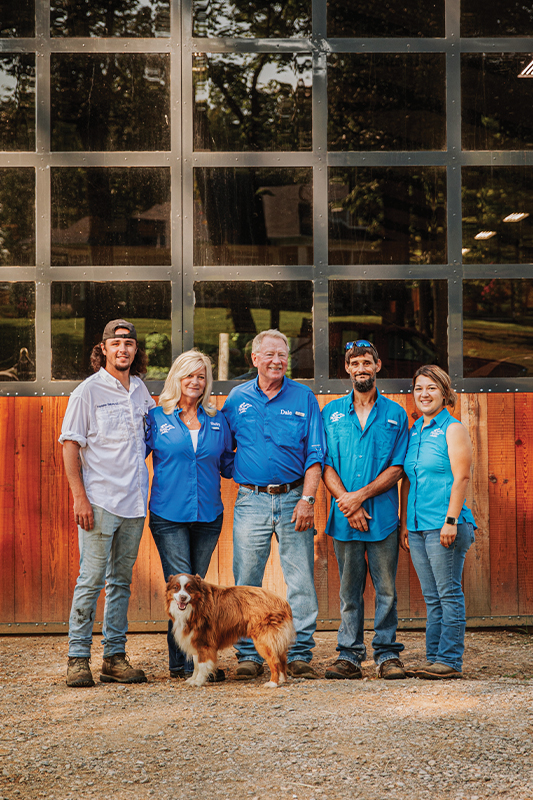 Dale and Shelly Buskill have owned their farm for decades, but it was only about six years ago that they started to incorporate thoroughbreds into their lives. When a friend called the Buskills wanting to breed a mare, they agreed, thinking they'd stop at just a couple of horses. "If you told me 6 to 7 years ago that I would own a bunch of thoroughbreds, I never would have believed you," Dale said. They have now expanded to over a dozen horses, adding three new mares to their farm at the start of the pandemic alone. "During COVID, my daughter boxed up all my stuff at my worksite and said, 'I'll see you when it's over'." This left Dale with idle time that he filled almost entirely with researching and working with horses.
While Dale credits a portion of their success to luck, Shelly says that it comes from Dale's hard work and sacrifice.
"The amount of work he puts in is incredible. He's got the strongest work ethic of anyone I've ever known."
You often hear of people in the horse industry working long days and full weeks, and the Buskills are no different. When they realized they could no longer split their work between the two of them, they expanded. They hired on a barn manager, carpenter, and stable hand. Together, the group works hard to keep the foals safe, which Shelly says is the most important thing about owning horses.
"We become emotionally invested in every horse we own. Our greatest joy is to watch the babies race their mommas through a field [with fences that we built to keep them safe]."
While their primary goal is to breed the mares, the Buskills will race them if it suits the horse. "You don't just take a horse and put it in any race – you have to check through the many conditions to find the perfect race to match your horse." Dale says that it would have been impossible to do without the help of horse trainer James Mattingly. "I think he's one of the most knowledgeable horsemen on the planet. Any time I have a question, he's my go-to guy." James and Dale work together often, with James even owning some of the horses on the farm.
Dale is also grateful that there is such a supportive equine community in Western Kentucky. "One thing I'll say about the equine community is that everyone is incredibly accommodating. I'm just starting out, so I ask a lot of questions and get a lot of helpful advice. It's not like they think they'll get anything in return, they all just want to help." While there is still a lot of traveling to Lexington during breeding season, he says his dollars go much further around Owensboro, and is happy that there's a horse industry thriving in this part of the state, as well.
McKinley Quarter Horses
Mike McKinley grew up on a farm and was always comfortable around horses, but it wasn't until his father, Eddie, took him to a rodeo that he started dreaming about being a cowboy. When Mike joined the service, he met cowboys from all over the country that taught him a lot about ranching and piqued his interest further. This led him to work on ranches in Texas, Oklahoma, and Colorado; continually gaining more knowledge along the way. When Mike's father started having health issues and needed help with the family farm, Mike moved back to Kentucky with his wife, Connie, but didn't want to get rid of his cowboy way of life that he loved. Eventually, they started raising quarter horses together, and built their own arena for cow penning and sorting.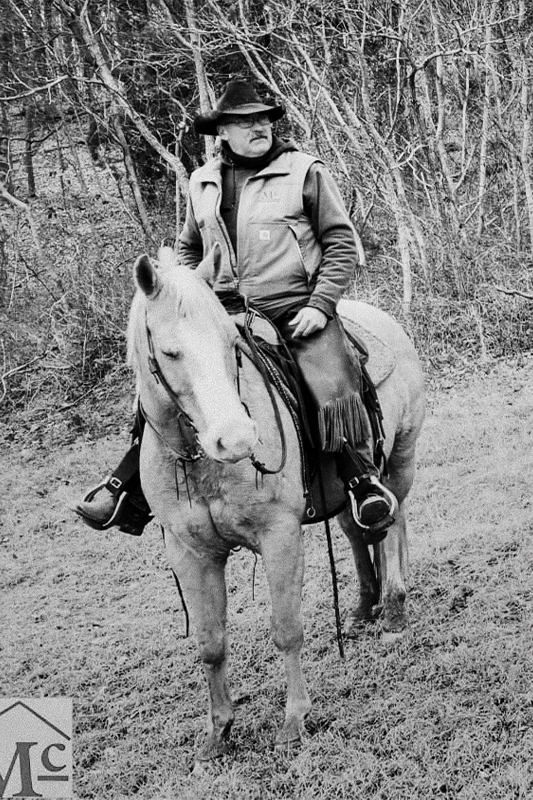 Thirty years went by, and now the McKinleys say they are one of the largest breeders of registered Cow-bred Quarter Horses in this part of Kentucky. "Getting this started and experiencing our growth – I couldn't be more proud of my wife and father," Mike said. "It's a tough decision to make this your life and to put everything you have into your dream. We are thankful to God for what we have, and we want to share it with others."
Mike has people that travel from all over the tristate for different cow horse lessons. He offers penning and sorting lessons, cow catching, roping, and even offers beginner riding lessons and private lessons. "I don't mind teaching anyone anything they want to learn," he says. "I know not everyone has been exposed to it in our area, so I want to help as many people as I can that would like something alternative to barrel and pole racing."
McKinley's beginner lessons have started with kids as young as three years old. His hopes are that more kids become exposed to the Quarter Horse world. "Not every kid can play sports, so we'd love to give them an opportunity to see if this is something they'd like to do. There needs to be more Kentucky kids visiting junior rodeos and competing in big shows!"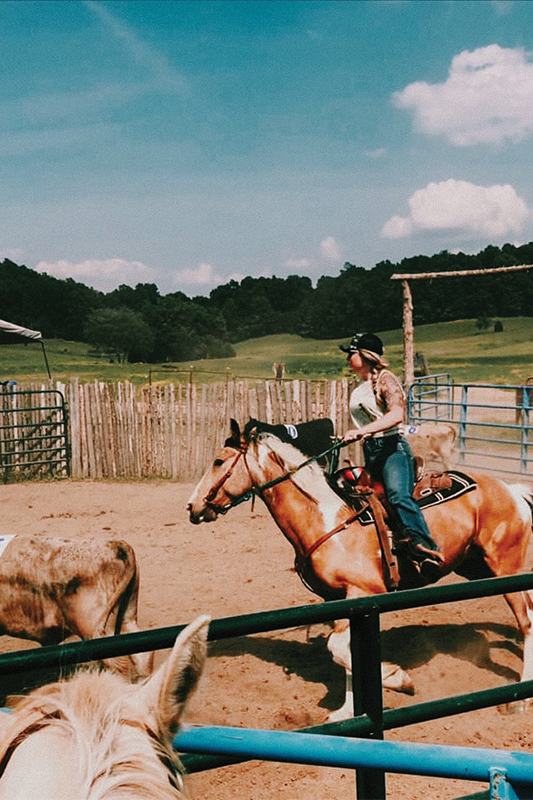 Local equestrian Brittany Gaddis and her family all started to learn from Mike earlier this year. "We attend regularly to practice. It was challenging to learn at first, but once we fell in love with the sport, that's all we want to do with our weekends!"
Brittany's husband, Trae, purchased a horse from Mike, and won first place at a sorting competition just three months later. Mike is a big believer in wanting his students to thrive and enter as many competitions as possible. "We are so incredibly proud of people that come to learn from us, then move on to do well in competitions. It's what it's all about for us."
The McKinleys also host local shows in their arena, always hoping that the equine community gains more exposure. They have a lot of pride in what they've built, both in the quality of horses and in the local community itself.  "It's not like we are world champions," Mike says, "but it's the little steps that are still major successes for us."