As soon as we walked through the entrance of Holiday World, we were greeted by Safari Sam, Holidog and George the Eagle – the perfect photo opp for our kids. I grabbed my camera and pressed the shutter button. Nothing. Dead battery? Nope, no battery. Which meant I must have left it at our cabin that we just checked out of at Lake Rudolph Campground. That realization could have been a nightmare that ruined our whole morning. I sent my family ahead wondering how much time this oversight would cost me. But thanks to a very nice tram driver who took me directly back to the campground, and another nice employee at Lake Rudolph who went way above-and-beyond by taking me all the way back to our cabin on her golf cart, and then back to the shuttle, I was back at the front gate with my family in a matter of minutes.
That little incident at the front gate made me think about those little extra details a lot on this trip. Here's what else I noticed: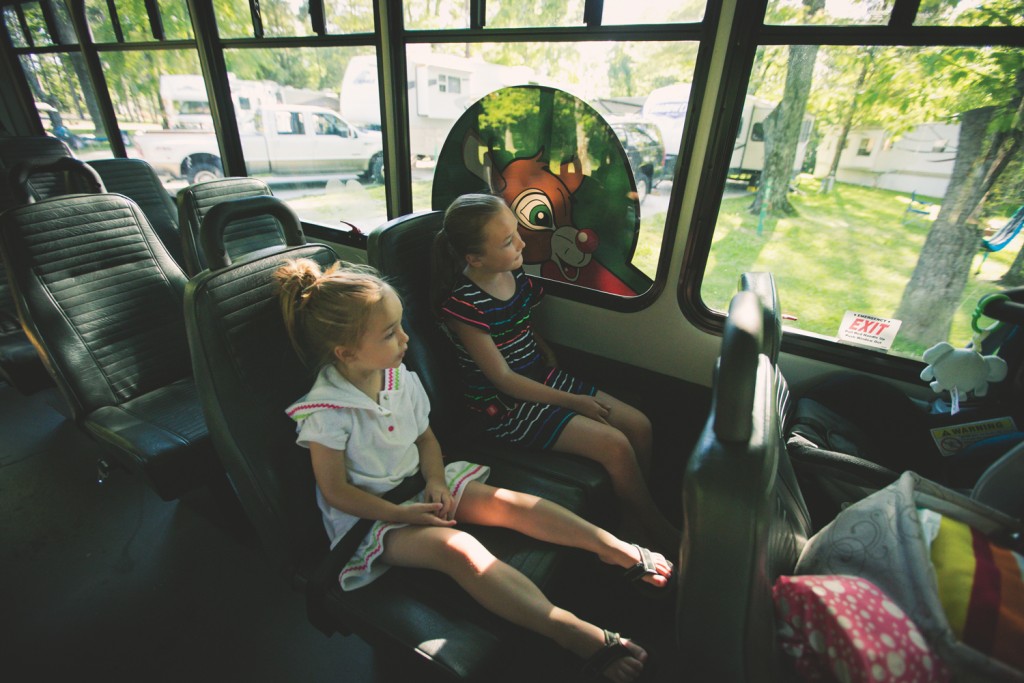 All the Free Stuff
Many of us have grown up enjoying all that Holiday World has to offer and so we may not really think about all the little things Holiday World staff does in order to make our experience memorable. We all know about the free parking, free sunscreen, and free soft drinks. But how important is that? At other theme parks of the same caliber, you could find yourself paying $10+ for parking, bringing your own sunscreen, and paying at least $5 per drink.
Your visit is much more enjoyable when you don't have to worry about those extras.
The free fireworks show every Friday night (from June 17-July 29) are also a nice bonus. And we used the free shuttle service back and forth from Lake Rudolph Campground, but you'll hear more about that later.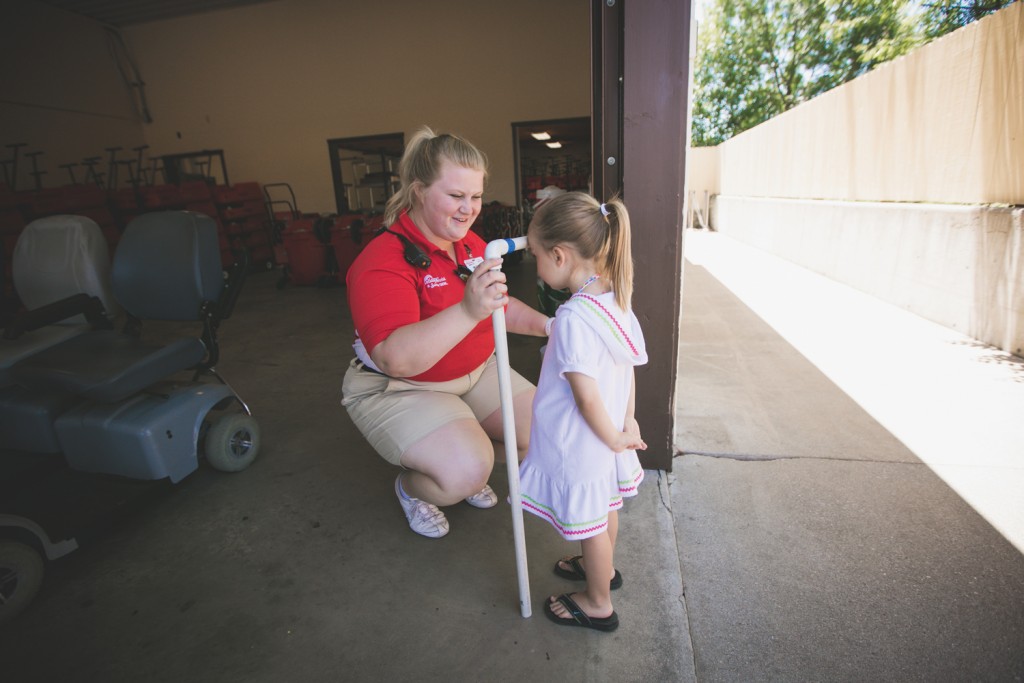 Another freebie I highly recommend is getting height wristbands at the front of the park. We got our kids measured once and they each got a wristband according to their height. That way they don't have to be measured by each ride attendant. Plus, the wristbands had our cell phone numbers on them, in case we ever got separated.
Attention to Detail
Every year there's something new at Holiday World. This year, to celebrate their 70th anniversary season, the staff at Holiday World has come up with some great ideas to feature in the park. Through the main entrance of the park, we saw the 70th Birthday Plaza with nostalgic photos, maps, and brochures from past seasons and a Holiday World Mosaic, which uses crowd-sourced images that were submitted by customers and fans. (They also brought back the Freedom Train, an original ride from former Santa Claus Land!)
Even the concession stands carry the theme with Birthday Cake Fudge, Birthday Cake Sundaes, Birthday Confetti Cake Flurries, and Birthday Cake Ice Cream!
Speaking of food, for those with food allergies, concession stands and cafeterias offer allergen-friendly and gluten-free menu items.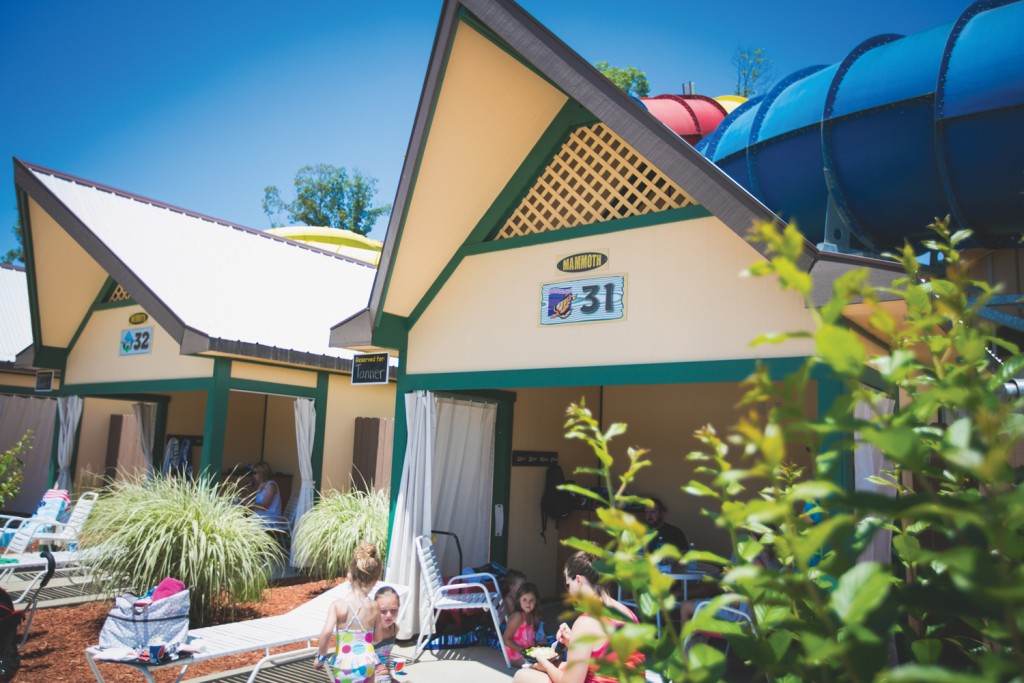 Other Inside Tips:
Here are some other things that made our trip more convenient and enjoyable:
Cabana Rentals: For an additional fee, we rented Cabanas in Splashin' Safari that came with a locking cabinet, mini-fridge stocked with bottles of water, table and chairs, two chaise lounges and a ceiling fan. It was worth every penny for us, especially this year with a 3-month-old.
Double Stroller and Wagon Rentals: Strollers and wagons can be rented at the entrance to the park. The wagon came in very handy; by the end of the day, we had that thing loaded down!
Next Day Tickets: If you're making a weekend out of it, like we did, consider purchasing a next day ticket for $30.
Include Lake Rudolph
To rest up for our long days at Holiday World and Splashin' Safari, we stayed in a family cabin (actually, it was a "Holiday Cottage") at Lake Rudolph. These cabins, which can be rented like a hotel room, sleep 5-7 people and have fully furnished kitchens, bathrooms, and bedrooms, as well as two flat screen TV's, AC/Heat, and a screened-in porch. The campground has a total of 270 vacation rentals, including 160 RV's, 40 cottages, 75 cabins, and a traditional campground.
Throughout the summer, Lake Rudolph offers free family movie nights, arts and crafts, a swimming pool, and Santa's Splash Park. Last year they added a new Camp Store, Game Room, mini-golf course, and playground!
As a father, I have learned that it's the small things that make a huge difference – little things like the friendly Lake Rudolph employees who helped me retrieve my camera battery. Which is exactly why I take my family to Holiday World every year. I went as a kid, and now I take my kids. All four of them.