David Parks had a dream. As a drummer growing up in Utica, Kentucky, he aspired to play in a band like Van Halen or the Eagles.
"Four or five guys setting out to take over the world becoming rock stars," said Parks. "As I got older I realized I just wanted to play music for a living."
Parks drummed his way through high school at Daviess County High, playing in the marching and concert bands. He'd leave the classroom and immediately head for a different kind of band practice; playing scenes like the B&B Tavern and Executive Inn Rivermont. Growing up, he was part of a musical family. His father would sing and play guitar along with songs on the radio and Parks' mother played bass in local groups.
"My family used to have weekend jam sessions right in our living room. That was normal for me," said Parks. "I used to go with my mom to her band rehearsals and the drummer in one of the bands was George Stokes, a blind man locally known for being a fantastic piano tuner. On his breaks, I remember asking him if I could play his drums. He would take a break, and Mom would stay and play her bass along with me."
He recalls going to Randy Bakers Music World for guitar lessons, however it wasn't guitar Parks ended up jamming on; it was a set of drums at the shop. His music teacher broke the news to his mom, it wasn't guitar that Parks would play; he was going to be a drummer. Throughout high school and after, David Parks played with several different bands around Owensboro. Kick Back Jack was a band consisting of Parks, Matt Gray, Michael Hicks and Steve Malicoat. After that group disbanded, Gray and Parks formed G.S.P. with Brian Snyder, hence the "G", "S" and "P" that formed the name. They recruited Tara Noel (Estes) to sing and Kurt Allison to play guitar. Now, Allison plays with Jason Aldean.
"Matt and I had been working together on jingles and in the studio when I was off tour and back in Owensboro. We started writing rock/pop tunes with Brian," he said. "We wrote and recorded one original record and signed a small distribution deal and played ONE show…yes one. It was at the Executive Inn Rivermont showroom lounge on New Year's Eve 2001."
They opened for the Van Dells, a group Parks later went on to perform with at the 'Big E'. He played dozens of shows in the halls of the now demolished hotel.
"It's [Executive Inn] where my professional music career started. I saw many concerts there growing up, so that place has a ton of sentimental meaning to me. Lots of memories there," Parks recalls. "I played the riverbank at a festival a few years ago after it had been torn down, and it was a dark feeling for it not to be there. Owensboro needed that place, or at least something like it. I miss it a ton! Oh the stories those walls could tell, all the history of performers in and out of there."
In 2006 Parks musical career turned country when he got a call from Preston Brust of LoCash Cowboys. Brust and Chris Lucas DJ'ed at the Wildhorse Saloon, where Parks had played sets with Nashville artist Phil Vaught. Lucas and Preston liked his sound and stage presence, and they exchanged numbers.
"My phone rang, I got a message from Preston saying, 'Dave, this is Preston from LoCash Cowboys, I need a drummer THIS weekend, three shows only, three cities. I don't know if you're available or not but I promise I won't ask anymore of you than just three shows, call me back'". – Parks recalls. "He seemed stressed to find someone in a short time and two days later I started my first run with them in Alabama, Georgia and Nashville."
Eight years later and Parks isn't looking back as he's enjoying the whiplash-inducing ride that is touring with the hit country group. He hasn't missed or subbed one show out of an estimated 1,000 plus. He jokes with Lucas and Brust that it's the longest three-day weekend ever.
While Cincinnati is home, and where his wife and kids live, Parks spends time on and off in Nashville playing gigs, organizing his charity event, "The Nashville Drummers Jam," and enjoying the country music scene, which he says is a big business that can be glamorous and exciting at times.
"There's always something going on. You never know when the phone will ring and your tour manager is on the other end saying, 'We're playing live on a TV broadcast for FOX in Time Square in New York City on New Year's Eve, bus call is tomorrow at 10,'" Parks explains. "That actually happened, short notice, living by the ring of the phone and literally never unpacking your suitcase."
However, when he's not home or in Nashville, Parks does try and make it back to Owensboro to see family that still lives in town. He says he's rich in that regard, and family means a lot to the drummer. Just as Nashville is ever-changing, he says Owensboro is growing up, too.
"I never considered Owensboro a small town," Parks recalls. "To me, it might as well have been NYC or LA. But now that I've experienced bigger cities and realize the 'Big O' really isn't that big… it still feels big to me. It is shocking sometimes to see a new road where a building used to be. 54 is sprouting up a lot, I was almost lost for a second."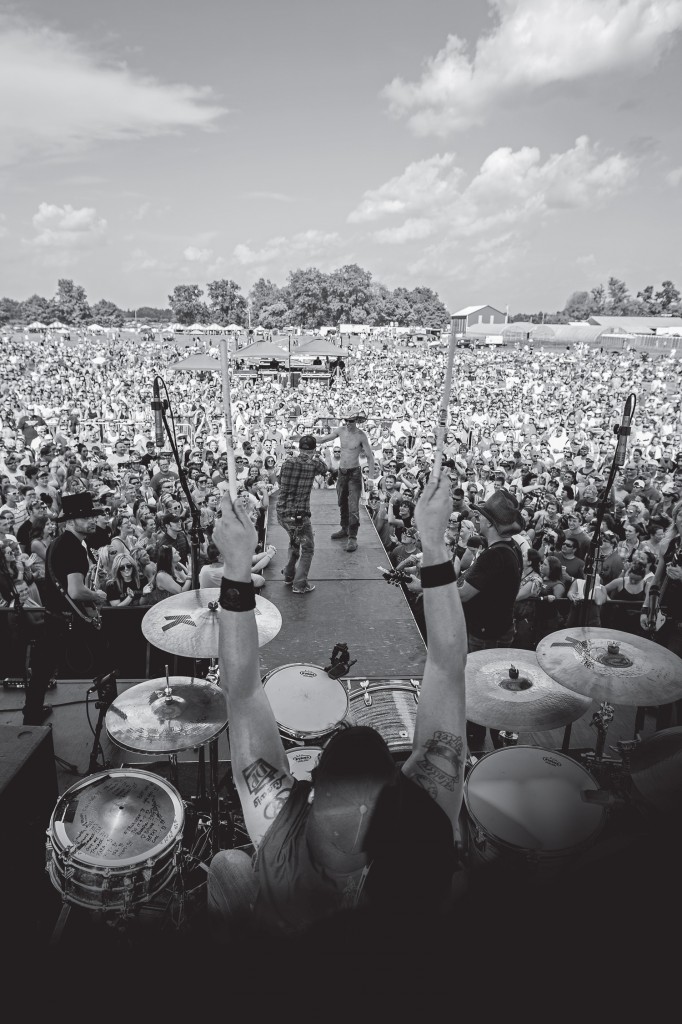 As the town he grew up calling home is changing, so is the music industry. Gone are the days of record shops and in are the times of singles that never actually make it to materials like plastic or vinyl. Parks says the digital age is good and bad for the industry and for musicians. While a talented performer can be discovered on social websites like YouTube and Myspace, there's also hundreds of people who "hide behind autotune" according to Parks. Add to that the pressure by record labels to only release hit singles instead of entire albums, and you've got an evolving landscape for the industry.
"There's a lot going on with sites like you mentioned [YouTube, Pandora and Myspace] right now. Again, these are good as an outlet, but horrible because musicians aren't getting paid what they're owed," Parks states. "I miss finding that gold nugget of a record store, a real record store where the guy working the counter was a fan and knew the bass player's name of most of the records he was selling. It's sad and disturbing that records are going away. Most people reading this probably have an iPod and only have one or two songs they like from certain bands, not the whole album. You don't have only certain chapters from a book on your Kindle."
Still, Parks has high hopes for his future. He plans to continue drumming, and has to stop and soak in his success at times. Talk to him now and Parks will tell you he's living the dream, the dream he had from his humble beginnings in Utica. It might not be Van Halen or the Eagles, but last year his phone rang once again. This time the voice on the other end invited him to play a recording session for the legendary producer and engineer, Michael Wagener. (Ever heard of Motley Crue, Alice Cooper or Ozzy Osbourne?)
"I never thought that would happen in a million years!" he exclaims. "I just want to keep growing as a musician and have more and more challenges. You never stop learning. I'm always thinking, ok, what's next?! I've played Cowboys Stadium, now I wanna play Madison Square Garden. I've played the Grand Ole Opry, now how about a show at Budakon? Europe – been there done that – now let's go to South America. Played shows with Kiss, Motley, Dave Matthews Band, and literally hundreds of others. Hey Aerosmith and Halen, you busy? Dreams come true kiddies!"