Photos by Jamie Alexander
Jessie Carter says her style of art is labeled folk art, but she really isn't sure what the category is for the driftwood sculptures and recycled pieces she creates.
Using wood she finds from the Ohio River, along with discarded pallets and donated jewelry, Carter creates unique pieces that give new life to the material.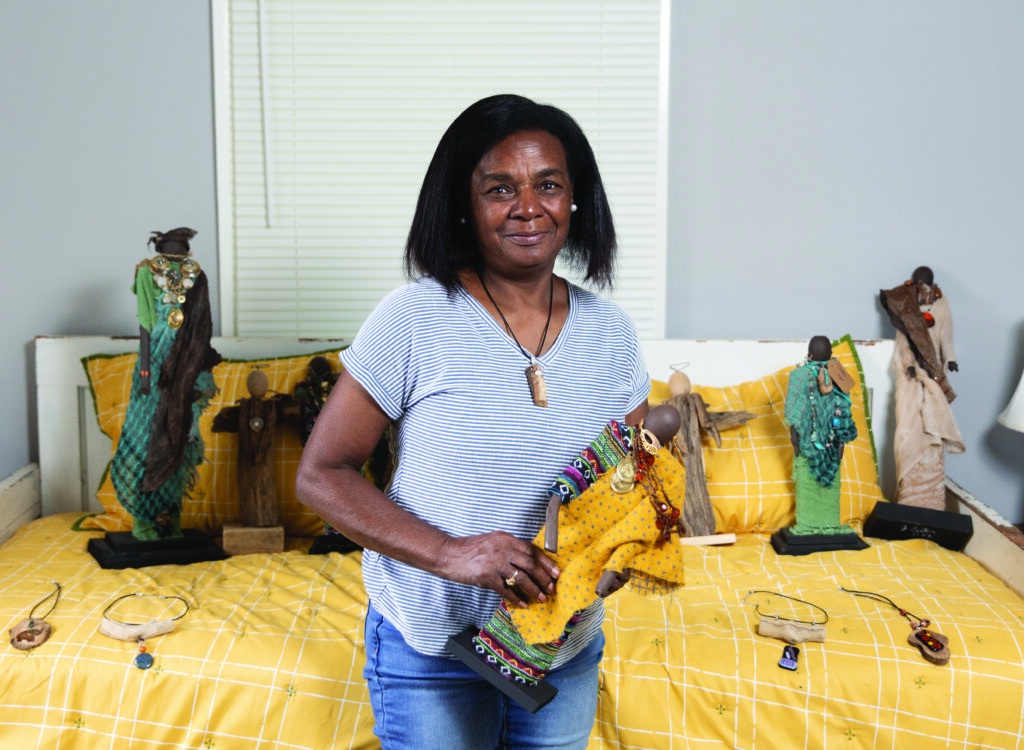 "Everything is recycled that people would throw away," Carter said, except for the wooden heads and binding materials.
Focusing on driftwood angels and Black sculpture, Carter creates one-of-a-kind pieces that vary in size because of the driftwood pieces she chooses. The sculpture pieces are painted black, adding jewelry, stone and a wooden head. Some wear a scarf, as well.
Because so many people asked what Carter would do with an art degree, she did not major in art when she attended Western Kentucky University, but now, after she retires from her part-time position as a bus monitor for Owensboro Public Schools, she plans to take art classes locally.
"I think taking art classes would help me more and I would learn more about art," she said.
In the early 2000s, Carter created dolls with a friend, and the two made a pact to not create their unique dolls if one were to die. They joined the Kentucky Crafted program that assists Kentucky artists and allows them to exhibit their art at the Kentucky Crafted Market and other events sponsored by the program, and began selling around the state.
The two also sold their dolls at The Baker's Rack locally. When her friend died, she honored their agreement.
"I believe in God, and a lot of my art is spiritual," she said. "God said, 'Hey, it's time – time to do your art."
The first piece she created was an angel made from a bedpost, and she donated that item to Cherri Lolley at CherriCare to be placed in the room where women who have undergone breast surgery find necessary items for healing. The reception to the piece was positive and showed Carter she had a gift.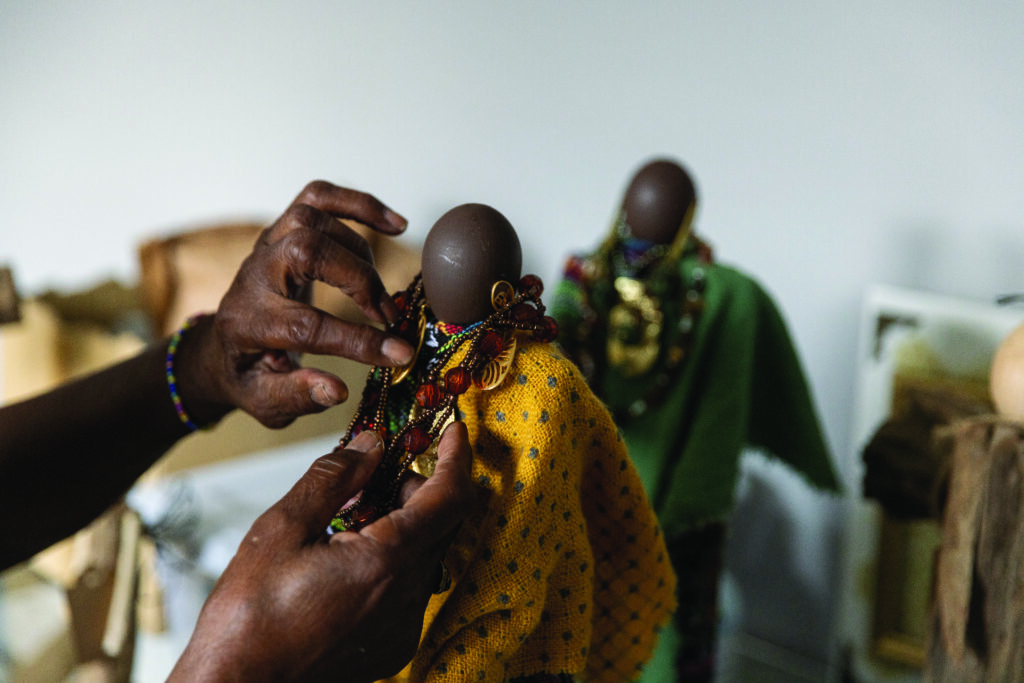 "I did not realize I had the ability to do more until I met Cherri and people liked it," she said.
Her Black sculpture, named Grace, is a Black woman filled with grace and strength. Carter is part of the Owensboro Art Guild, and she entered Grace in the Art Guild's 60th Juried Art Exhibition in 2022, where 74 artists from Kentucky and surrounding states entered pieces. She has had 2 pieces selected for the juried exhibition.
One of her driftwood angels is displayed at the Owensboro Museum of Fine Art as a piece of permanent art, something that Carter takes pride in as a Black artist.
"There is not a lot of Black art around here, and it is special to give back to the community," she said.
Carter attends art fairs and festivals throughout the area and takes her angels, Black sculptures and the sunflower pieces she paints on palettes and tables. Some of the sunflowers and angels are painted on palettes that stand four feet tall. Each sale is important to Carter for specific reasons.
"It's not just the money, but the feeling you get when someone buys it to put in their house," she said.
Creating two angels and two Black sculptures a week is typical for Carter, but she finds that she is becoming just as popular for her sunflowers, which she now paints on four surfaces weekly.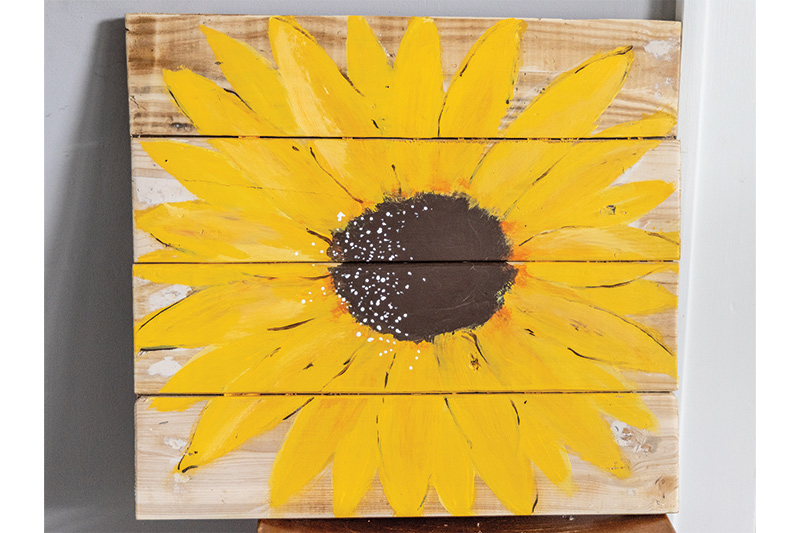 "People really love a sunflower," she said. "It is a symbol as well in Christianity."
Carter has begun creating necklaces made from driftwood, adding in pieces of recycled jewelry, and those appear on her Facebook page, along with her other art.
Carter, who has lived in Owensboro her whole life, said that she is appreciative of the reception of her art, and no matter where it takes her, she knows she wants to continue working and interacting with people.
"The best reward you can get is helping others," she said. "While no two pieces I create are alike, they are made with the same heart."